Design project of apartments in River Gate has created impressive and luxurious with exquisite layout, reasonable with a seamless space. At the same time, using wooden furniture in Indochine style makes the house more beautiful in the eyes of the homeowner.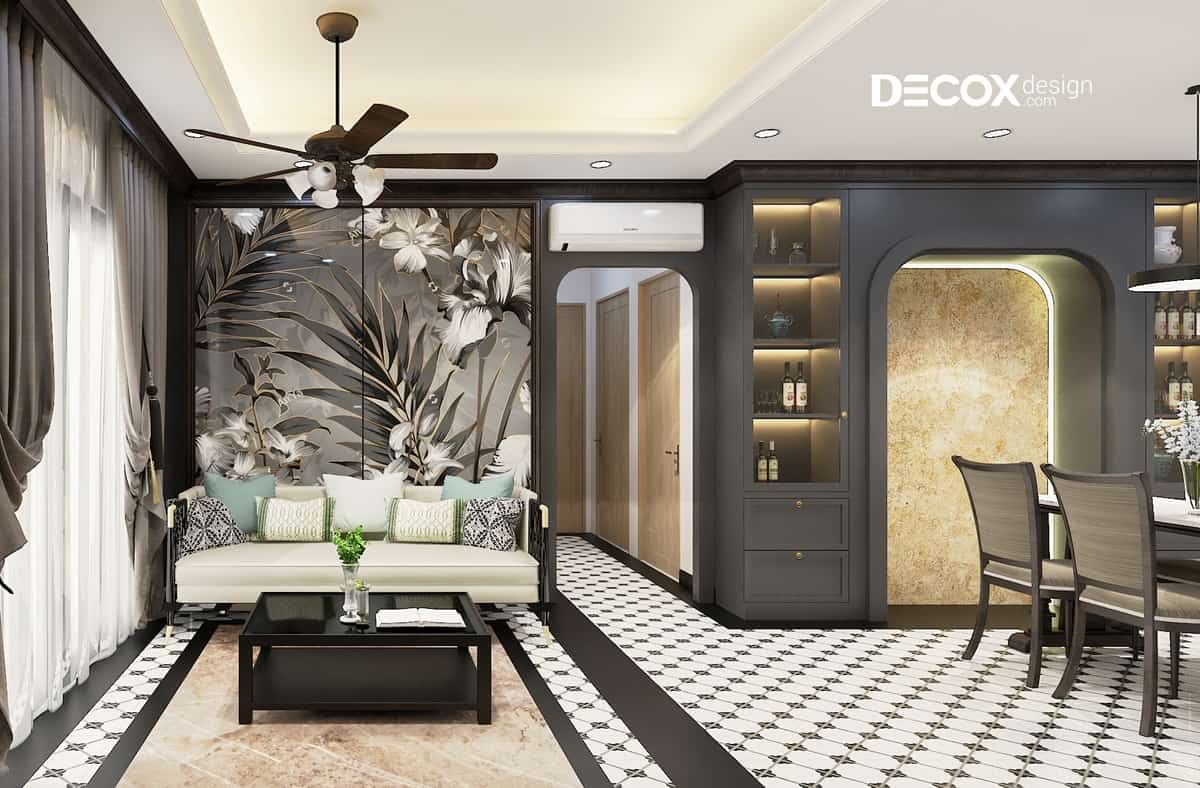 This project is located in District 4, Ho Chi Minh City and has an apartment area of 96m2, including 1 living room, 1 master bedroom connected to the workroom, 1 small bedroom, kitchen and balcony area. The apartment is designed in harmony, bold style of the French colonial period.
River Gate is one of the places that offers you the best living conditions for the comfort and perfection in the heart of Saigon and will make you smile and happy in your daily life while helping you increase your ability creativity and flush new ideas for your life.
The living room area is made of dark wood and Indochinese motifs. Even ceiling fans or drapery decor are classic. Apartments with this style speak for a luxurious, delicate and will always receive appreciation from others. In addition, the highlight of this living room is the wall behind the sofa, the gray and white of floral motifs add to the mystery and novelty.
The kitchen area is a fire area for the family, which creates delicious meals for the members. Mainly used in black, white and a little wood color but did not make the room darker but also brighter by lining the black-and-white tiles of Indochine style. From the dining table to the chairs are exquisitely shaped to match the mainstream style of this apartment.
Apartment 96m2 only owns 2 bedrooms, including a master bedroom and a normal bedroom. The master's sleeping space, of course, has to be really spacious, WC and working space, this is the most impressive layout. The black-brown wooden arches are used in harmony with the floor, wardrobe, desks and wooden walling. Has created warmth in space. Normal bedrooms still own a sufficient area but still retain the style of Indochine. The soft, warm and proud bed drap sets the room for extra luxury and delicate.
An Indochine style apartment with dark brown wooden furniture has created a distinctive and comfortable character when living in the space that you love. The landlord is a beauty, luxury looking from inside is sure that this 96m2 River Gate apartment is the place that makes you most satisfied.
Interior Designer:

Decox Design