This project was created in a modern style for a young lady and her daughter. The accommodation is configured as two apartments joined together. The area is 88 m2. The apartment is divided into two areas: private and common. The private area consists of a bedroom, nursery and dressing room; the common area consists of a living room, kitchen, bathroom and hall.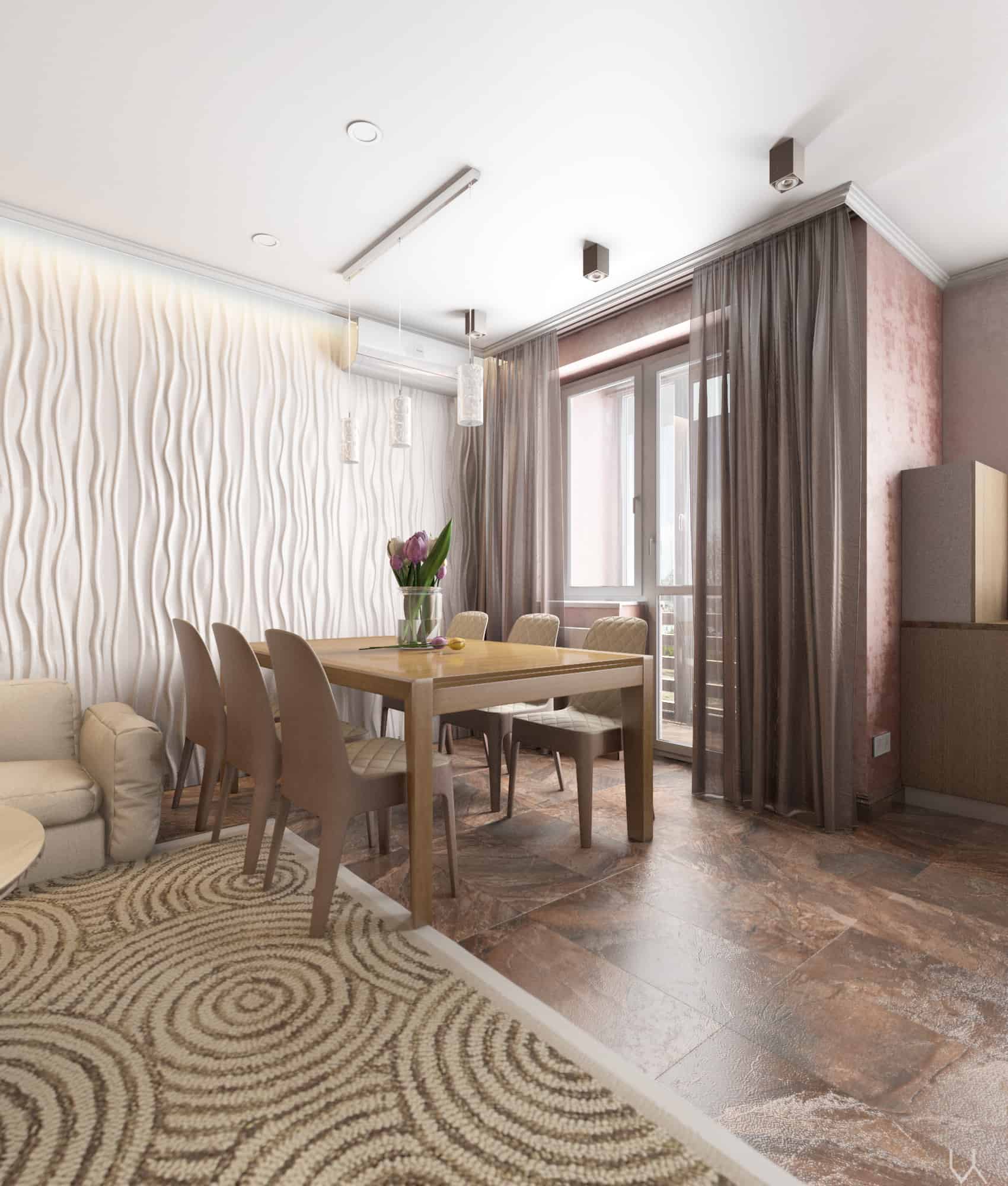 The goal was to achieve good combination of free space and functionality. The colours I was asked to use are light and soft shades of white and pink. I've drawn inspiration from natural curves and forms, such as shapes of waves and flowers.
The colors are exceptionally light – white, sand, pink. Light pink and sand are neutral colors, in combination with white, they bring warmth and comfort to the room. Also shades of white are a great company for the colors listed above. As the result an expressive effect achieved.
The contrast of materials is displayed in the texture. The interior combines soft matte paint on the walls and textured glossy floor tiles. Glass surface of the cabinet fronts enhances the idea based on the resistance of materials and colors connected together.
The shape of the furniture is laconic. Forms interact with each other in a small proportion of curvilinear forms, which are expressed in the pattern on the carpet, on the wallpaper image and on the gypsum panels bends.
Lighting is the hardest part of the job. It is necessary to use several light sources to highlight different areas of the rooms. In this case there should not be an accent only on the form of the lamps. Artificial lighting should bring into focus the drawing on the walls and the shape of the gypsum panels. Through the use of the different lighting appliances, you can change the mood and atmosphere of the room at will.
The owner loved the project and it is being implemented in live.
For me It was a good experience and opportunity to improve my skills. In my opinion, the best point of this project is work with colors and light.
If you like this project, feel free to visit my behance profile https://www.behance.net/valeriyale1629
Interior Designer:

Valeriya Karpuk