Elegant kitchen FACTORY of Italian manufacturer Aster Cucine set the tone for the entire interior of the dining room in the private house. The main color was chosen white for the best presentation design of the kitchen set. Orange accents and metal copper in the fixture of the lights are placed to support the direction of design that the kitchen presents.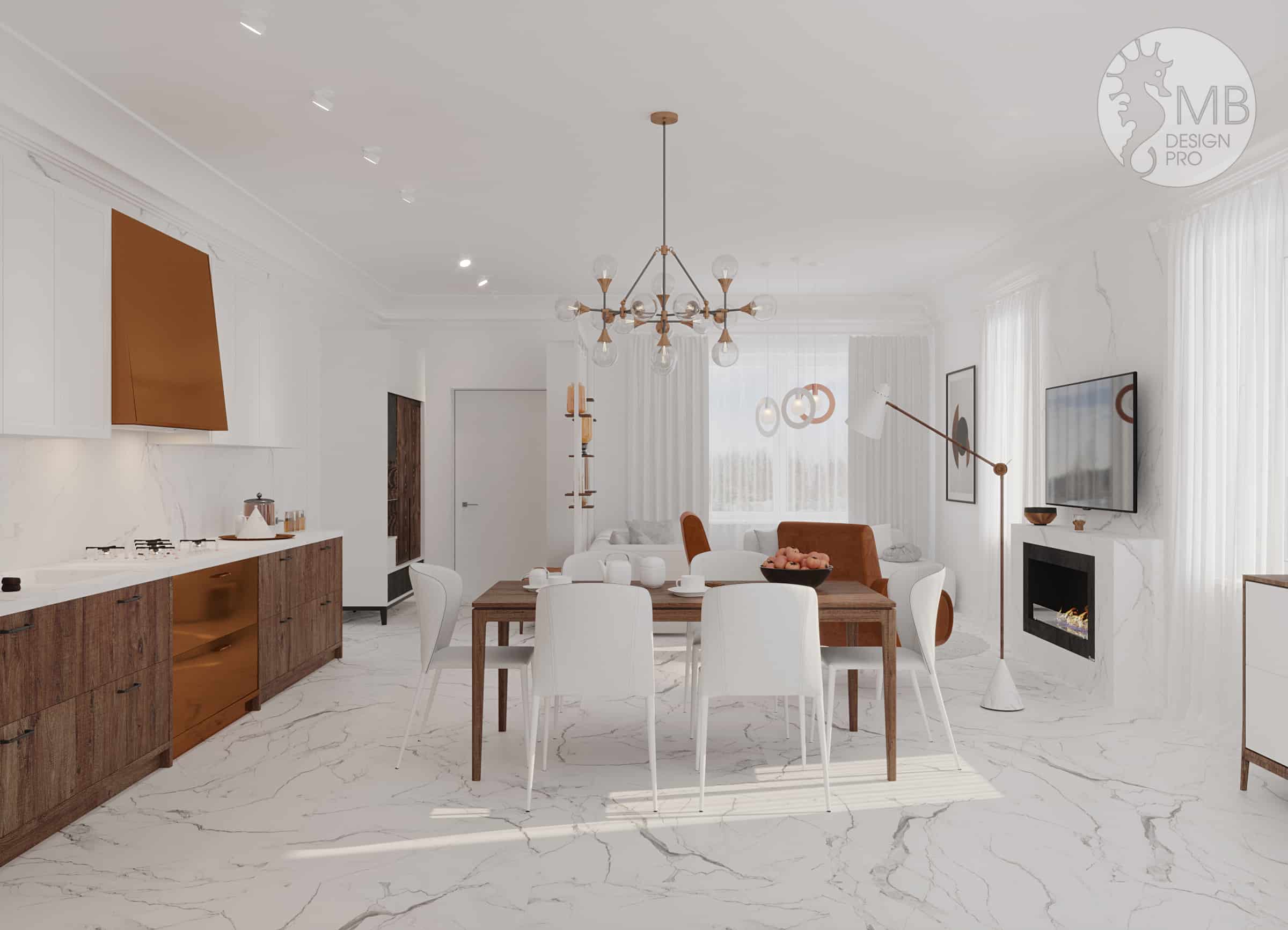 The starting point for creating this project was the design and the general idea of this unusial kitchen set. It was the thing who set the tone for the design of the entire room.
Unusual combination of materials: white classic upper facades, the rough wood of the lower cabinets and copper parts of the kitchen hood give the space to the imagination.
The project was created for a family of 4 people living in a private house.
An important parameter was not to fill the large room with various colors and textures and follow the monochrome scheme, giving priority to the representation of the kitchen set.
As complementary colors (companions) I used the already existing shades presented in the decoration of the kitchen.
To make contrasting details the interior uses a table made of wood of the same color and an armchairs in orange velor upholstery.
The reddish color of the copper fittings of the fixtures echoes the copper of the kitchen hood and makes the interior more sophisticated.
The design of furniture developed in Italy is very often so successful that allows you to "play" with it in a different ways.
In this project, kitchen FACTORY of Aster Cucine was presented in an elegant modern style, although it could have been presented for example in the country style interior.
People like monochrome interiors, where they can relax from the visual noise outside the house.
Interior Designer:

Marina Bodren (MB Design PRO)