Smartphone and tablet stand dock to hold your iPhone, iPad, phone or tablet in your desk, bedside table, in your kitchen, in your workplace or any place. It can be used in different positions to hold various size devices . It´s made in concrete with a polygonal design inspired in pyriamids geometry and origami paper toys.
An elegant iconic and geometric piece to have at your workplace in your desk to highlight your device with style.
Smartphone´s stands are handmade by casting concrete so every piece is unique and may be a little different in color and surface texture from the pictures because of concrete´s properties.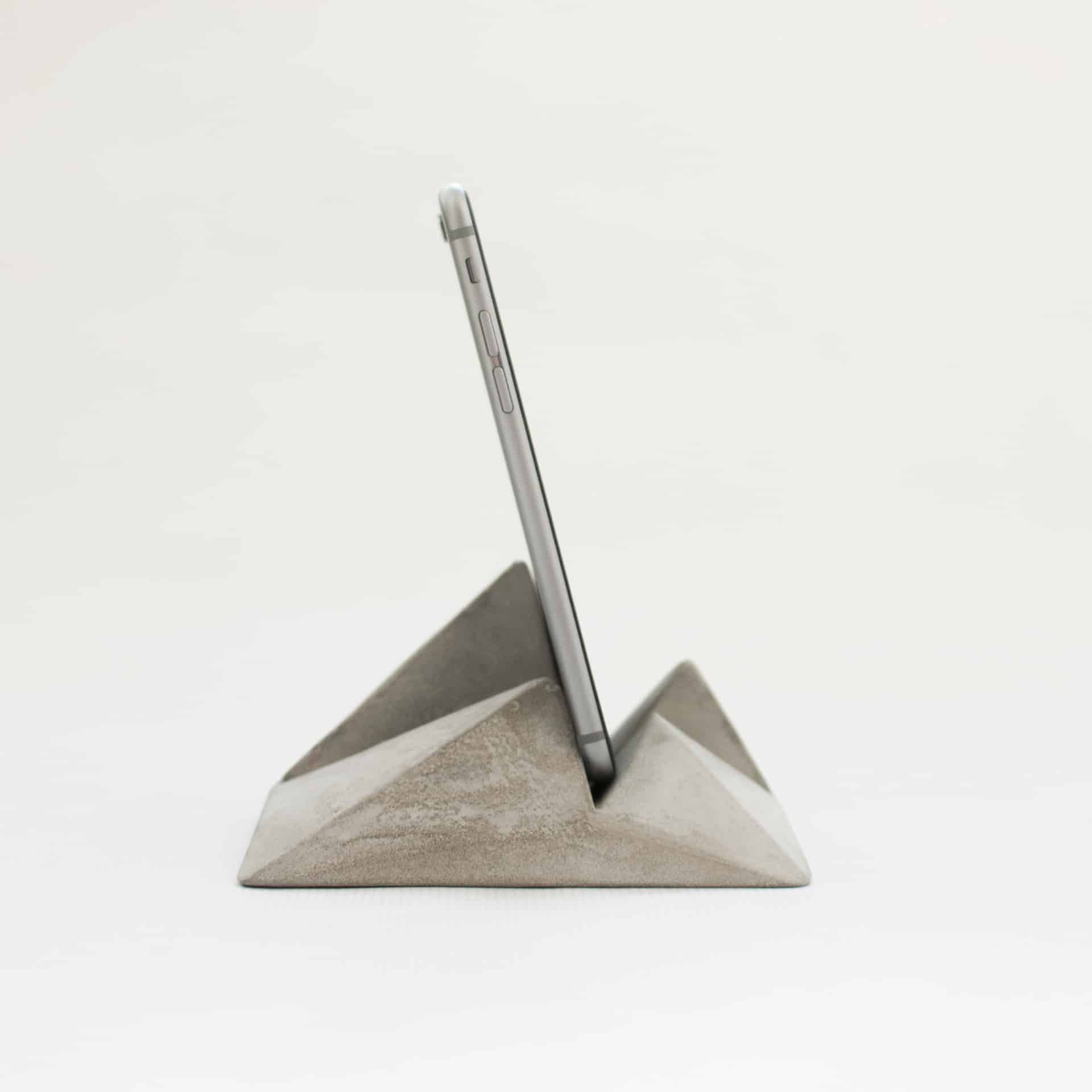 The intention with this design was to design a stand that could be able to hold smartphones in different positions with total stability. As a improvement to this first idea, we came up with the concept of making it more versatile by being able to hold also tablets in different positions and sizes.
The firts concept of the smartphone stand was a sculptural-polygonal shape made in wood, but it was hard to manufacture and that made it expensive so we spent some time learning how to work with concrete, casting and mold making. The weight of the material and the possibilities of casting/molding allowed us to create this final version.
We thought that it maybe a weird design for the people because of its strange shape, we personally liked it but because we know the process behind its shape. Surprisingly its being one of our most successful recent products, both in sales on our Etsy store and on design blogs and communities. This product made us learn how to work with concrete, a material we are now exploring in new designs, finishings, etc.
Also, as a tip, we would like to say that this product taught us the importance of working directly with materials and that, sometimes, one step behind (abandoning the first idea in wood) makes us advance faster later.