Produced during the designer's study at Rhode Island School of Design, My Plastic Chair explores the extent of polypropylene sheet as a comfortable seating surface. The chair is a result of numerous plastic seat iterations and human proportion studies. My Plastic Chair comfortably wraps around the human body while providing a durable and low-impact seating.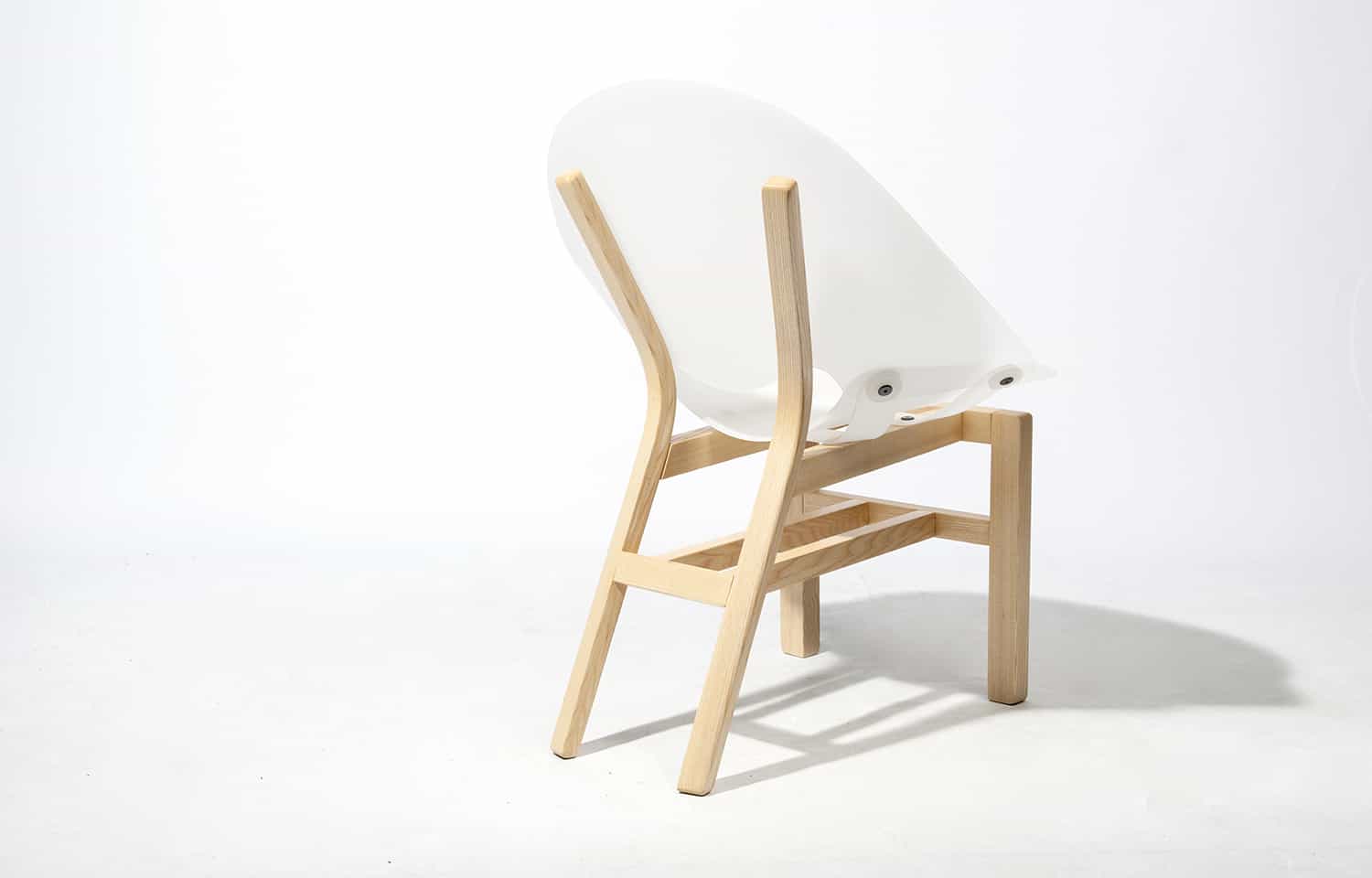 The chair was produced for an Industrial Design course, Chair Studio, at Rhode Island School of Design. It was instructed by Seth Stem, an internationally acknowledged furniture designer. The assignment was to make a hard surface chair, and my goal was to reproduce the compound surface of molded plastic chairs (eg. Robin Day's Polyprop chair) with a sheet. Bending a sheet into a shape does not require any mold or jig, reducing the production cost by far.
The idea of bending a sheet into a loop came from the "Medea" Chair by Vittorio Nobili. From the ideation, I bent one sheet of 1/8th inch Baltic plywood shaped similar to the Nobili chair and discovered that the shape is surprisingly rigid. If a single sheet could provide a strength to support an average size human, why would I bother thickening the layer by laminating sheets of plywood? A change of material needed to occur. From the suggestion of the instructor and shop technicians, I decided to use polypropylene as the seating surface. The plastic is offered mostly in white and natural; white has a bluish tint which does not complement wood. Natural is neutral in tone and translucent, an interesting property that allows for the play of light.
The base of the chair is ash, a type of hardwood known for its flexibility. The back legs are constructed with thin strips of ash, steamed and laminated. I learned to combine steaming and laminating from my classmates, who had been experimenting replicating curves with wood.
As for the fasteners, I used joint connector nuts and bolts. I had seen them in furniture all around me and really wanted to use them for the first chair I would create.
As the chair was for a class, I presented it during an in-class critique. I think my classmates enjoyed it, and the instructor remarked that the chair is very suitable for manufacturing. Some people liked the translucency and some did not. Many loved the curve of the back leg. Since the chair has an unconventional shaping for the seat, people were pleasantly surprised when they sat down.
From this project, I learned to bend plastic sheets into a piece of furniture. My research suggests that it has not been done too many times. Combining unlikely materials together for furniture requires numerous prototypes and material studies, but it's worth it.
Designer and Builder:

Sehee Ahn

Photographer:

Sehee Ahn

Model Photographer:

Savanna Li