I believe the Kitchens are the heart of every home so I wanted to design a kitchen that can be both cozy but with a hint of luxury, making it a nice place to spend time in while cooking or having a conversation with other people around the kitchen Island.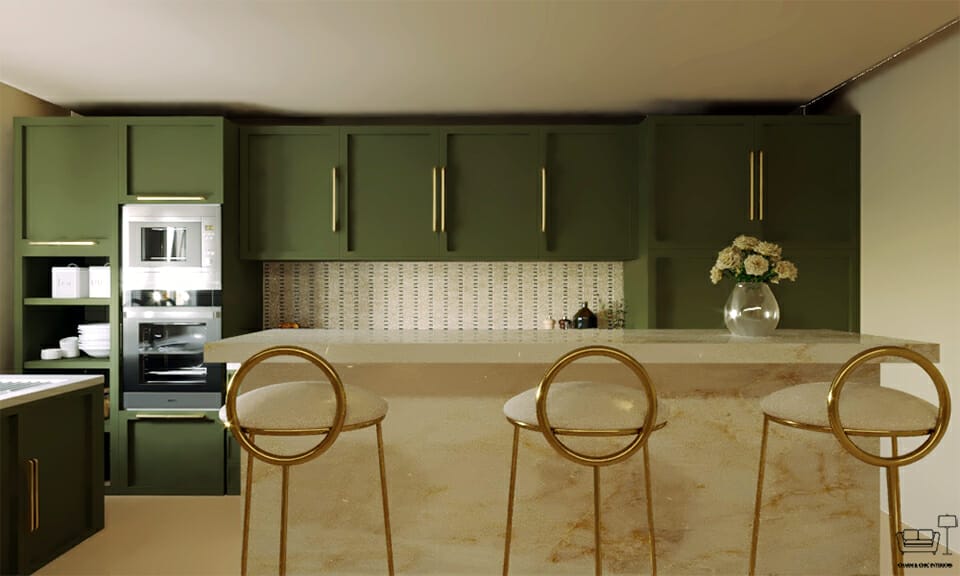 This kitchen was designed for a newly married couple, it was designed to make the people using it enjoy their experience in the kitchen so it turns from a chore to a fun activity.
everything is neat and there are different storage units with different sizes to make sure that no mess happens.
I wanted to make a kitchen that is luxury without being too flashy, so I chose dark green for the cabinets and kept the walls and floor
neutral light colors cause those colors are very easy on the eyes and the color green has a calming effect.
In order to achieve the luxury side I added golden handles to the cabinets and a marble kitchen island.
also the presence of good natural light makes the place more cheerful.
This project made me learn about the circulation inside the kitchen and the different activities that can be done inside it, kitchens are not just a place to make food they are the heart an soul of every home.
a good tip while designing a kitchen will be too imagine yourself using it so you know what needs to be added and where, also picking a color palette that's not too dull or to flashy is very important.