What we enjoyed the most when doing a project in which we are able to intervene an old building, is the great opportunity to transform it for a new useful life. The project for the restaurant El Presidio Casa Bon gave us for raw material a nineteenth century mansion in Culiacan, Sinaloa, in the northern part of Mexico.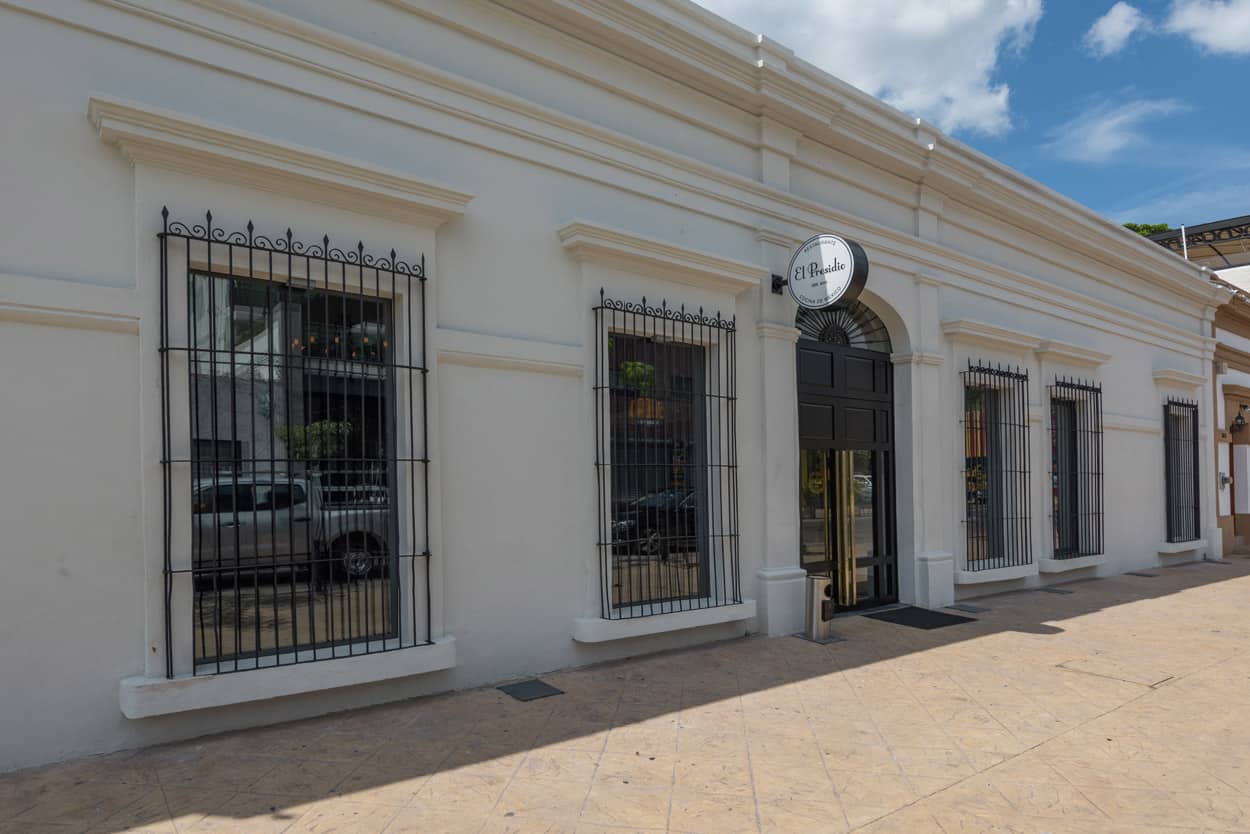 The property was abandoned and was showing the existing building materials, so we decided to use this condition and turn it into the axis of our project. One of the elements that caught our attention was the original floors of the building, with chess style in black and white. Combining these two elements we decided to leave the walls and ceilings apparent, restoring only the parts where needed and even left the plants in their natural form that had already taken over some areas. Inspired by the original floor, we made a new proposal to refer to its past with a different geometric pattern that gives a new image and dynamism, covering all interior spaces and going up some walls.
This project has one restaurant area inside and other outside in the courtyard surrounded by arches. To make the most of this area all the time, it was decided to install a retractable glass roof that provides natural light during the day and isolate the space according to weather conditions. The bar and the cellar are also two very important areas that have presence throughout the whole place as the bar counter goes over the place appearing through doors or hiding behind the walls.
The courtyard with granite floors and the garden with a water mirror and lush vegetation give the guests a place to rest and enjoy the local flora. The hall that leads to the restrooms has mirrors in different directions with neon lights in two colors —pink and blue— that gives irregular reflections to the wall not showing the exact source of light or the image reflected on them. In the restrooms the floor goes up the walls framing the monolithic sinks made of black terrazzo with round brass mirrors. On the back there is a large window that brings in the light and green from outside.
The biggest challenge —and what we enjoyed the most— was reconstructing the space fusing the old with the new without confronting each other. Our target was achieving both elements to coexist within the same ambiance in harmony. Plain and simply there are things that cannot be erased, so we decided to accept the existence and all traces of time as part of the history of the place to enhance the original essence of the building.
Architect:

German Velasco – German Velasco Arquitectos

Photographer:

Mas proyecto