The contrast of the old mansion and the aesthetics of modern furniture is the design of our project.
The interiors of the ancient mansion are decorated in the spirit of the aesthetics of Andrei Tarkovsky's films, and the color and details of the old houses of Madrid.
The lobby of the hotel is conceptually interpreted by us as a patio – a closed patio – as compensation for the lack of territory for an open terrace. The atmosphere of the patio in the lobby of the hotel is created thanks to rattan hanging chairs and rattan tables, terracotta color of walls and plants in open pots.
. We conceived the project as a miracle, like a journey into space and time.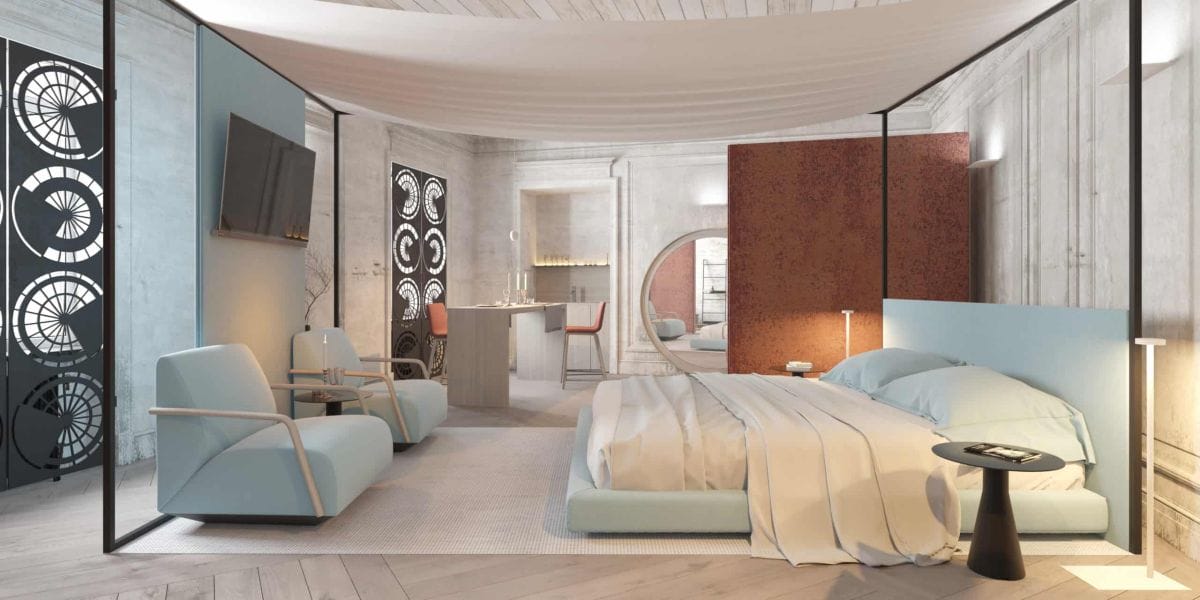 We planned a renovation of the 18th century mansion for a designer mini hotel
The purpose of the project for us is to convey emotions of joy and fullness of life, to convey the state of inner happiness and thereby attract the attention of tourists to the mini-hotel. We conceived the project as a miracle, like a journey into space and time – the hotel is located in the center of Kazan in Tatarstan, but … is transferred to sunny Spain of the 18th century. In our opinion, the main goal of tourism is to transfer people to a new reality, perhaps utopianically beautiful.)
The inspiration was the aesthetics of the films directed by Andrei Tarkovsky and the colors of the facades of the old houses of Madrid
The old plaster, in places the open brickwork, the ceiling cleared to the wooden base, the iron railings of the railing – all this is almost completely destroyed at the moment and determined the scenario of renovation of the mansion, when the lost parts of the building and its finishes can not be restored and fixed "as is" at present.
We gave the interior a contrast of terracotta and blue and graphics of the black interior elements. Blinds of fine black metal are cut with ornament with the motif of a stylized lace fan.
The project caused people's emotions, and we were glad to hear positive feedback. Unfortunately, the economic crisis and political tension caused the construction project to be frozen in 2014. At the design stage, we studied archival materials on the architecture of the interiors of the 18th century and carefully painted the plaster profiles and platbands completely destroyed in the mansion. After the termination of investments, we revised the interior design at our discretion – made it more radical and uncompromising than the investor allowed. For example, the glass section of the floor caused disagreements and objections from the restoration services of the city. We took the view of the non-commercial restoration in the project – when there is no need to recreate the completely lost parts of the building.
Architect:

Andrey Gorozhankin

Interior Designer:

Olesia Fedorenko

Визуализатор:

Igor siritov