Syndicate is a showroom and dressmaking workshop located in an old building with uneven walls and narrowed spaces. We decided to use the distorted space effect preserving the functionality of the premise and achieving the desired visual effect with absolutely even white walls, simple forms and straight angles.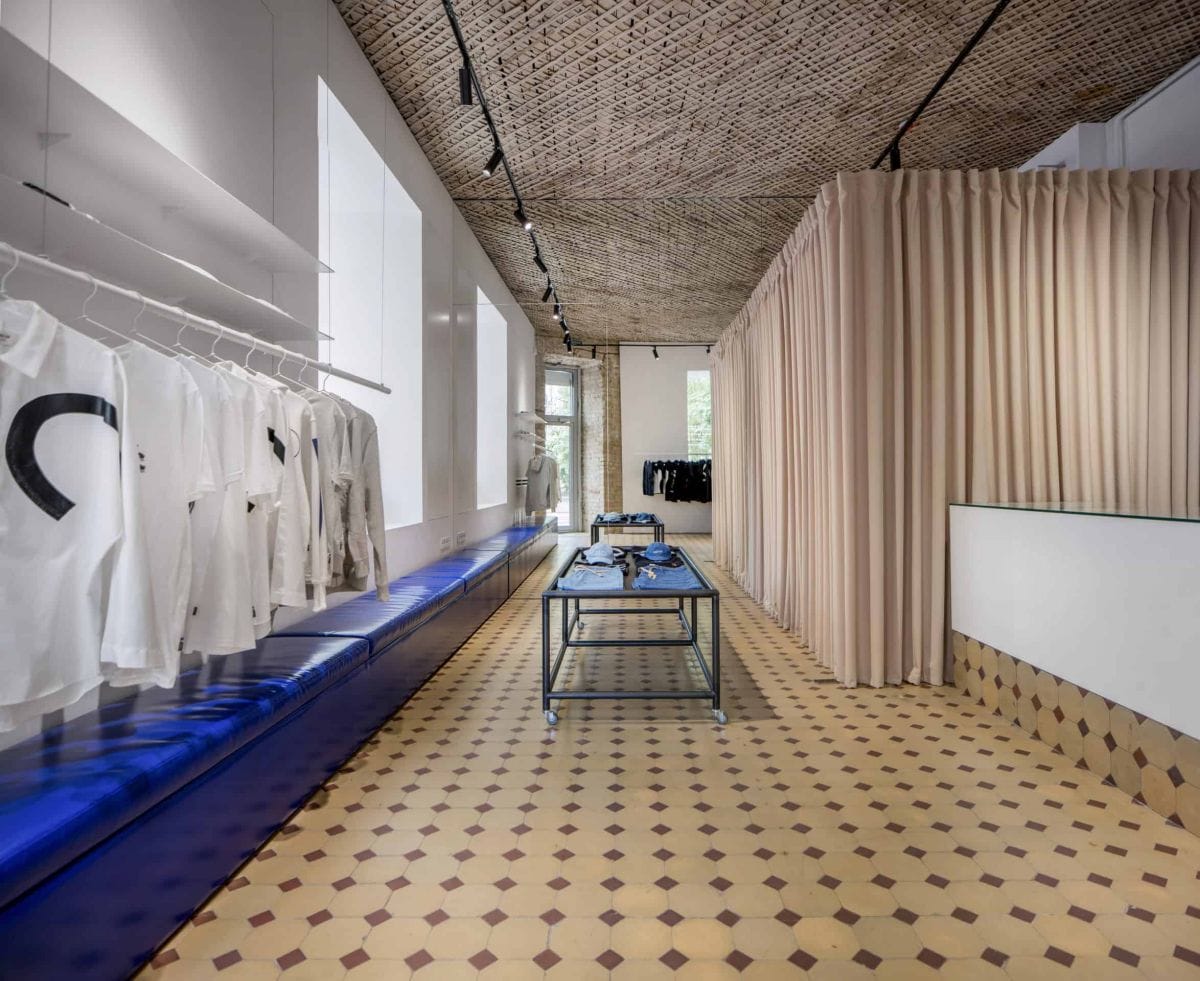 The project was for Syndicate Original Shop, the Ukrainian streetwear brand that is passionate about quality, materials and innovative production technologies. As the space is only 40m2 our client asked us to make it functional, not distracting and simple.
The plan for this project was to use the distorted space effect. Depending on the complexity and geometry of the floor plan we folded up the axis of parallel and perpendicular lines in relation to the floor tile and installed frameless glass windows fitted into the walls straightened by gypsum board. Another important spatial solution worth mentioning is a mirror panel. Therefore we preserved the functionality of the space and achieved the desired visual effect.
The style/material/color/etc were the part of the conceptual model of our clients who give preference to the laconic manner and functionality of casual style and design. Our main goal was to preserve the original elements such as the old floor tiles and lath and plaster ceiling, which of course was cleaned, thoroughly dusted and prepared for use.
The source of the inspiration was the historical building itself where Syndicate Original is located. We believe that the preservation of the historical buildings and their defining characteristics restores the past and protects the future for generations.
People were overwhelmed with emotions when found out that the old floor tiles and lath and plaster ceiling were kept.
Now we know for sure that the sense of place and its location are more important than the latest design trends. Don't forget about your client's priorities, look and the way of thinking as when elaborating the plan for the project they could come in handy.
Architect:

Slava Balbek, Anna Riabova

Interior Designer:

Sasha Kozynets

Photographer:

Slava Balbek, Yevhenii Avramenko