The design project of the living room with a kitchen and a dining room in a country house. Customers wanted, that an interior turned out in style of provence on the kitchen and in style of country in the living room. The interior in a country style embodies practicality, functionality, refinement, simplicity and closeness to the village way of life. In addition, an interior in styles provence gives ease and purity, fills an interior with light and heat.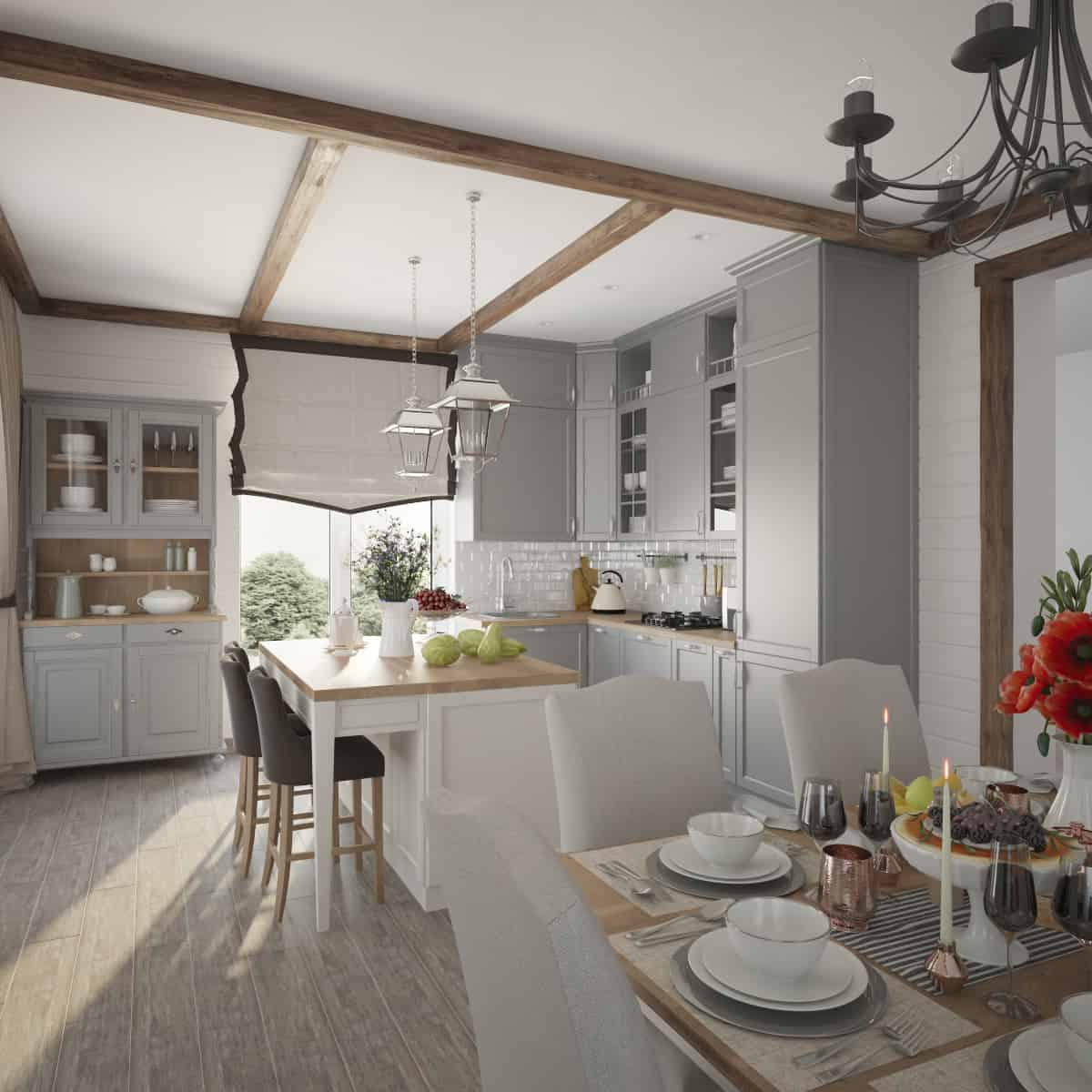 In an interior as finishing mainly are used natural materials. The ceiling is painted in a white color and decorated by beams from a natural tree which gives to the room special mood and style. The walls sheathed by the lining painted in a dairy color perfectly are combined with a brick and massive wooden beams on the ceiling. Porcelain tiles, imitating a wood, was chosen for the flooring.
The color palette is as close as possible to the nature and consists pastel colors. As color accents is textiles: an upholstery of furniture, a pillow of terracotta color, dark color pickups for curtains. In decoration of the windows it was important to adhere to simplicity and ease. Light white tulle has been chosen for curtains, and portieres are sewed from cotton. An important role in the interior wooden colored furniture. A sofa with wide armrests, chairs with soft upholstery, the lunch table capable to contain all family and guests, create a cosiness and at once indulge to rest. The made old mirror, the console with opened shelves, buffet – the essential details of an interior in style provence.
The main and one of the most interesting tasks was to enter the existing furnace fireplace in an interior. For this purpose a part of a wall behind a fireplace was revetted with a brick brick. Massive shelves in the same color as the ceiling beams combined two different in the finishing parts of wall.
Interior Designer:

Olga Kobzareva