Bathroom for a family apartment in Buenos Aires, Argentina. Where warm and cold colors were used, wood materials and stainless steel accessories providing a neat and tidy feeling. Carrying out this project was a challenge for us, since the space was a little small. Below you will see the design process and its final presentation!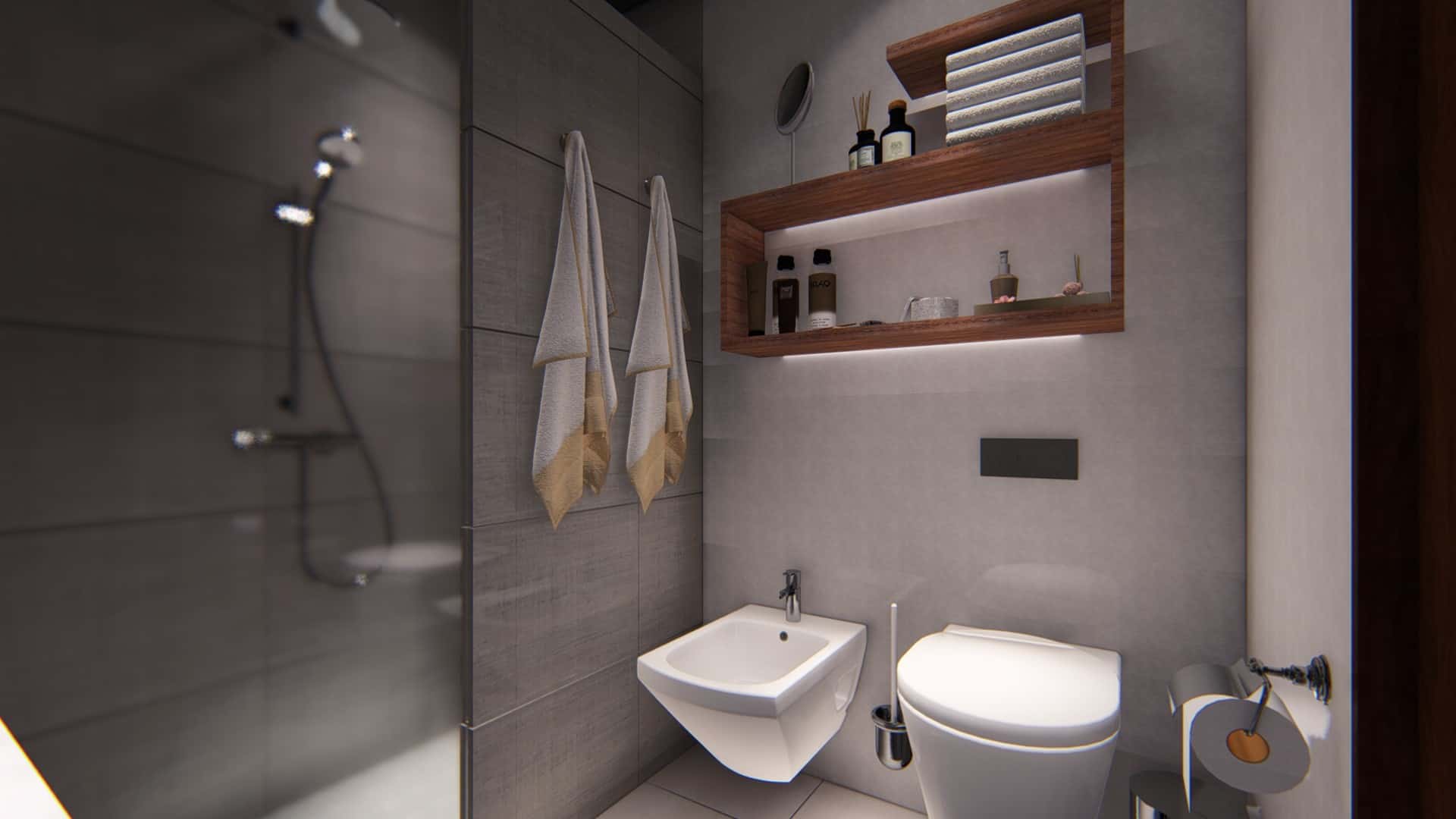 The project arises as a proposal for a family apartment in Buenos Aires, Argentina. They wanted a space that felt neat and gave a spacious feel, that they enjoyed and was pleasant to enter.
The process. During the design process the first thing we do is an investigation where we determine the client's needs and how we can adapt them to the space. First we made sketches in 2D and 3D, the arrangement of the sanitary pieces were proposed by the construction company and we decided to use it to avoid making movements in the pipes.
The inspiration. Most of the inspiration came from the client, so we helped put their ideas in order and presented proposals that we saw as more viable. They were delighted with each one, we made a moodboard and in conversations with them we came to a final proposal.
Deciding the colors. We wanted to create a feeling of a neat and tidy environment, so we decided that the color palette to use should have gray and white colors. But it was missing a tone so that the atmosphere did not feel so cold, so we added the brown in furniture.
Finishes. After decide the color palette to use we selected the finishes of our bathroom, where porcelain was the predominant material. For the floor we use panels in pearl white. On the walls of the shower we cover with a rectangular format in a dark gray tone providing a concrete appearance in this area.
Furniture. We decided that the sink cabinet should be something different, the material on it should give the appearance of white marble. The mirror of this area will be from floor to ceiling with a led light frame, in this way the lights will bounce providing light to the entire space. Shelves in white, brown and accessories in wood tones to provide warmth to the space. Some pieces in stainless steel to give a sophisticated tone.
We had a lot of fun doing this project, the proposal was a success when we presented it and they hope to carry it out as soon as possible. In carrying out this project, we learned that the client often knows what he wants, but needs someone to guide him and organize his ideas, and we love being there throughout this process.
We hope you enjoyed reading this post and that we can continue to share others with you. Feel free to share your comments about it!
Architect:

Fabiola Valero

Interior Designer:

Fabiola Valero

Photographer:

Manuel Castellanos