Boué Arquitectos has consolidated the second stage that contributes to the reactivation of Callejón de Dolores located in perpendicular direction to Dolores street where Mexico City´s China Town flows. On this alley the transformation actions and improvement of its urban image done by the local authorities is starting to show in its overall commercial impetus, gastronomic offers and tradition.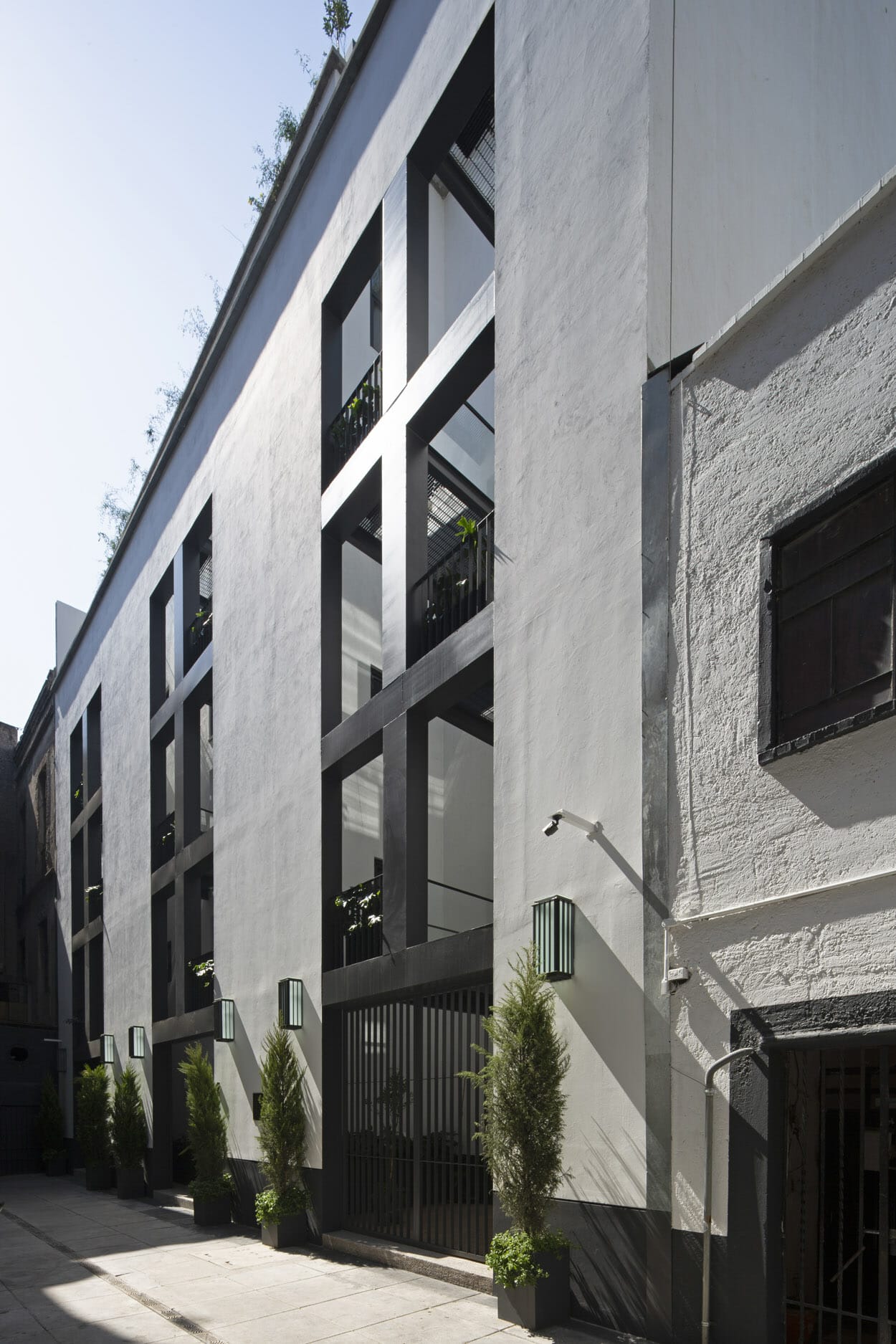 This new building aims to maintain the positive inertia and enrich the pedestrian traffic experience offering a more secure street as well as widening the housing offer in the area promoting its privileged location very close to the Alameda Central and Palacio de Bellas Artes. CD4 as well as reinforcing the mentioned initiative was developed on the site of what used to be "Casa Bravo Reyes" for many years the producer of the curtains and costumes for the most important theater plays and operas in Mexico City, a house that colapsed in the early years of the XXI century as a result of the abandonment.
The building has two retail spaces on the ground floor, one will be turned into an underground art gallery and the other one into a coffee shop. In the following levels there are 12 studio apartments developed in four levels, on the roof top there is a terrace with lounge and gym. The commercial area looks to be the art community meeting point through exhibitions, book launches and a cultural agenda that will symbolically take the street with activities for all the public, the community and the visitors.
This project focusses its philosophy intervention with the street as a priority, as well as the activities that can be detonated on it with the presence and dynamic generated by this building altogether with its predecessor located on number 8th of the same alley. The construction shows a sober language on its façade however permeable with a series of elements that allow to configurate balconies and terraces and patios for the access to the commercial area, the gallery and the main lobby. Plays with the heights of the adjacent buildings to reside and maintain the same scale in relation to its urban image.
The main lobby shows some of the remains of the preexistence building and concentrates the vertical circulations, going through four levels each with 3 apartments with kitchenette, living-dinning room, bathroom and bedroom. The disposition on the floorplan follows the condition of all having natural light and ventilation. The amenities as well as services for the whole building are located on the roof top enjoying the view of the Torre Latinoamericana, Mexico´s first skyscraper. The project keeps all its areas a discrete materials palette, a silence and comfortable space designed in neutral colors. The quarter, its sounds, colors and all its movement are left outside, but without stopping being part of the experience of being a visitor to one of the most dynamic zones of Mexico City.
Architect:

Boué Arquitectos