Music and the pregón of all sorts of shops and services get louder and become less clear. Justo Sierra street in Mexico City silence´s is restored once at Plaza Loreto, one of the most endearing public spaces, a haven between the vendors, tourists and locals. Is in this setting, very close to the zocalo of this big metropolis, where many buildings in the area follow the inertia of a collective decay, an unfortunate destiny: years of abandonment, commercial disarray or lack of trust and vision in the potential of an architecture willing to recover and turn into fitting properties, most of all valid.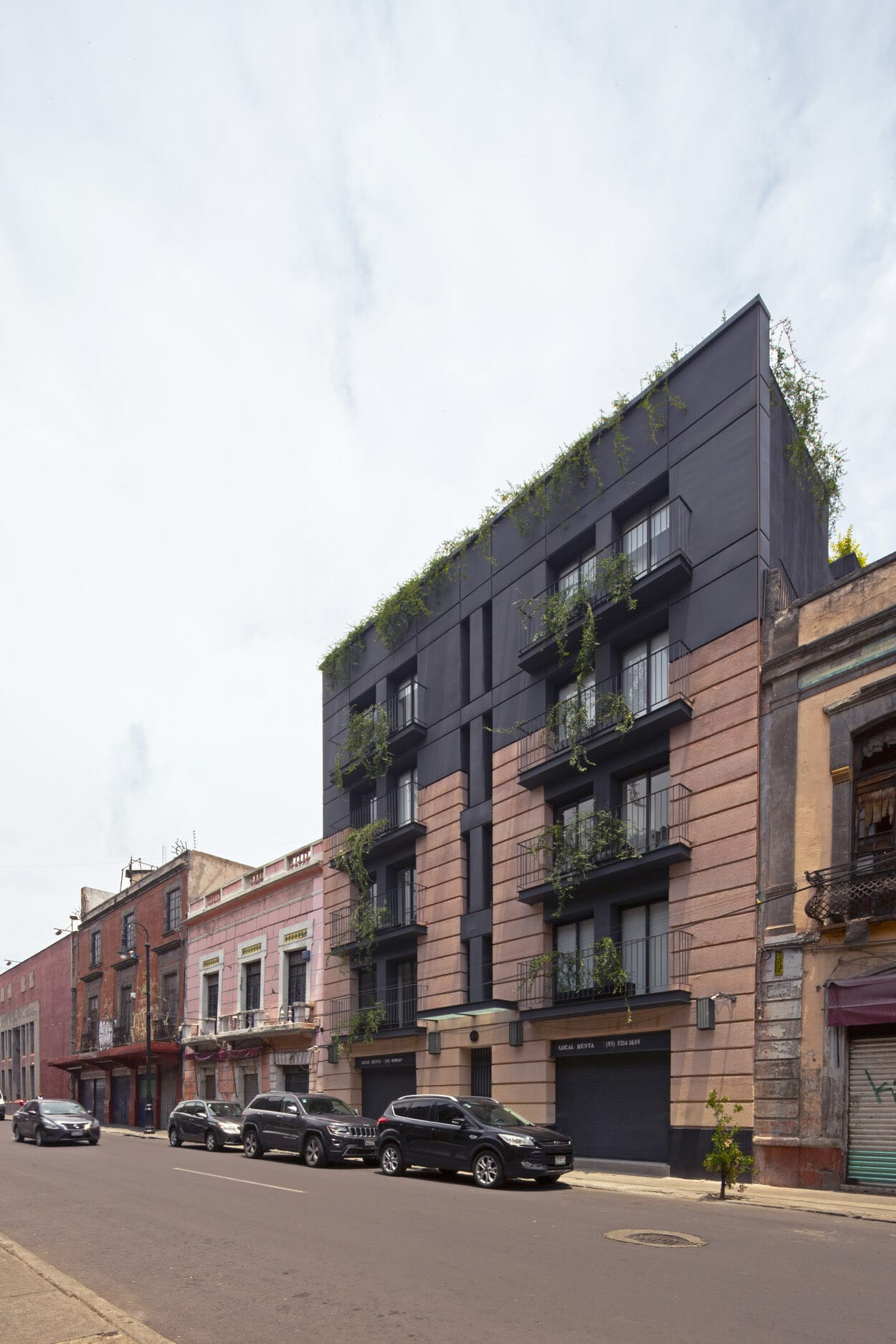 One of these constructions breaks the sameness that appears to be a compelled destiny. It is a building with commercial ground floor, two retail spaces and four levels of apartments crowned by a roof garden overflowing towards the exterior that has one of the most privileged views in Mexico City.
The property, renovated by Boué Arquitectos, is located between Carmen and Loreto streets presenting a series of balconies, vegetation and a pink stone finish, standing out from its neighbors, at the same time that the disposition of the materials claims a gesture of integration and contrast: the continuity of the heights on the façade or the second stage of life of a building responsibly refurbished.
Among the benefits of the detailed reactivation of this property, from a housing perspective, there is the fact that has allowed its creators to promote the reactivation of a fragment of Justo Sierra Street provoking the commercial regulation happening in it. In the interior, the reception crowns seven patios —connected by the vertical and horizontal circulation system— organizing the configuration of 8 apartments by floor. In the higher level there is a feast of terraces with a grand pergola and canopy which, is on the distinctive marks of the immense roof top, fused with the gym and services.
The logic of using these fragments of rectangular patios as spaces to encapsulate each terrace, provide a flexible system of use in which each user may configure their amenities with hammocks, lounge chairs or grills, as the existing vegetation gives privacy without interfering with the possibility of beholding the metropolitan horizon.
The back yard, as well as the main façade, secure that all the apartments have natural light and ventilation, as well as allowing to listen the sounds of the city that little by little, when the sun goes down, cut down leaving room for a silent retreat inside of the most active epicenter of Mexico City.
The apartments, designed with young couples, artists or students in mind, are configured to give the maximum extent of comfort in a scale where the minute detail enables that the architecture and furniture merge to give extreme efficiency to each one of the equipped rooms.
Architect:

Boué Arquitectos