A living space lightly with apartments using wood materials and uniquely designed at project The Sun Avenue 60m2. You will be surprised and impressed with this unique design because this is an ingenious combination of ancient beauty along with modern furniture that has increased the appeal of the apartment. Each interior in the apartment is meticulously selected to match Colonial style. The apartment at The Sun Avenue is a new style in modern times today.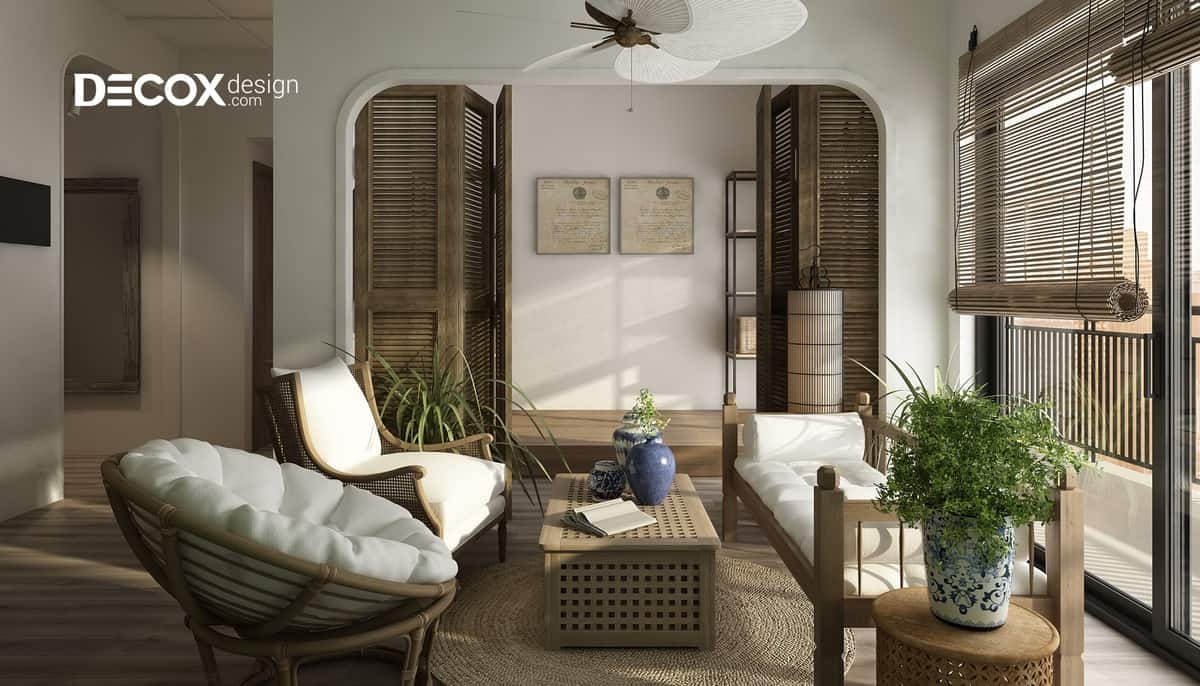 Overview of The Sun Avenue apartment project 60m2
The investor: The Sun Avenue
Land area: 6.85 hectares
Project function: Apartment
Address: 28, Mai Chi Tho, An Phú Ward, Dictrict 2, HCM city.
Design style
The apartment is making use of every space to optimize the use area. Every square meter in the apartment is designed with sophistication and always brings high aesthetic value. All furniture in this apartment is carefully selected and has similarities in each space. Besides, the apartment also uses luxurious, gentle and courteous tones that make the apartment from modernity to the strength of the Europe, also bring Asian beauty and wooden furniture to bring luxury, noble.
Living room
This is a combination of concepts of nostalgic and modern interiors. The sofa table is located on a rug woven from rattan and bamboo and comes with different and impressive sofa. Doors, window are made up of high-class wood to create a sense of luxury and class. With this style, you should put some more trees to create a feeling of closeness to nature.
Kitchen room
The kitchen is used white color to create a cool and pleasant feeling. Wooden shelves are impressive and simple design and it brings convenience when using the kitchen. The wall of the kitchen is covered with full ceiling tiles, so the kitchen will always be clean and bright.
Bedroom
The set of drap white sheets combined with wooden beds showed the elegance in the bedroom space. The desk, wardrobe or television shelf are all arranged to help the homeowner convenient to use. All spaces are placed with green pots to revitalize the room.
Relax room
Just a wooden bed, 2 sides are 2 bookshelves, illuminated exterior glass doors have made the room more novel and impressive. This is the space where you relax the most after a hard working day and need a place to relax.
To have impressive spaces like this, the architects had to work a lot to come up with a perfect drawing and always hope that the host will like the design this time. What do you think about this apartment? Give Decox Design a comment!
Interior Designer:

Decox Design