The villa with Indochinese identity is always reminiscent of the delicate beauty of the old architecture, elegant colors and luxurious wood materials.
Distilling the most quintessence of culture in combination with the light creeping through the doorways brings life to the space.
————————————–
• 𝙋𝙧𝙤𝙞𝙚𝙘𝙩 | Indochine House – SG11
• 𝘼𝙧𝙘𝙝𝙞𝙩𝙚𝙘𝙩𝙨 | Sixgreen Design
• 𝙇𝙤𝙘𝙖𝙩𝙞𝙤𝙣 | Quang Binh – Viet Nam
• 𝘾𝙖𝙩𝙚𝙜𝙤𝙧𝙮 | Interior
• 𝙇𝙚𝙖𝙙 𝘼𝙧𝙘𝙝𝙞𝙩𝙚𝙘𝙩𝙨 | Le Minh Hai & Partner
• 𝘼𝙧𝙚𝙖 | 200m2
————————————–
☯️ | 𝙎𝙞𝙭𝙜𝙧𝙚𝙚𝙣 𝘿𝙚𝙨𝙞𝙜𝙣 – 𝙂𝙧𝙚𝙚𝙣 𝙎𝙥𝙖𝙘𝙚 𝙁𝙧𝙤𝙢 𝙏𝙝𝙚 𝙁𝙪𝙩𝙪𝙧𝙚
⏰ | Everyday (09:00AM-06:00PM)
✉️ | sixgreen.design@gmail.com
————————————–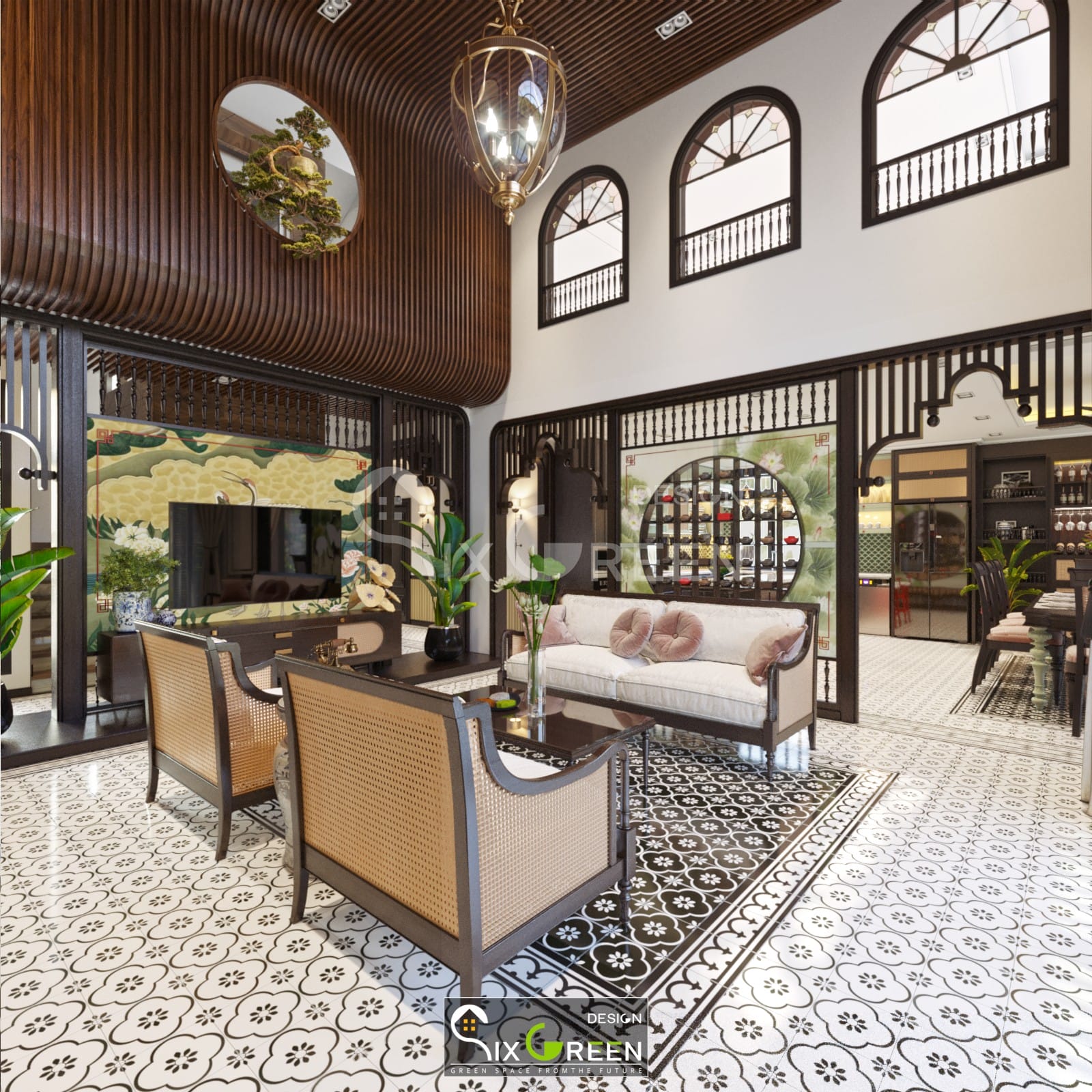 The project offers the perfect living space for anyone who loves Indo chinese interiors and cultural spaces.
Always respect the traditional values, local culture. That's why I bring Indochine style into the design, the purpose is to combine Eurasian, classic and traditional kitchen space. Wishing to preserve the oriental culture combined with the luxury and convenience of the western kitchen, in order to create a perfect kitchen space in every Vietnamese family.
A beautiful kitchen space must satisfy the architects aesthetic view, in order to create ventilation for the kitchen space, I have connected the kitchen space with the living room space. The old kitchen space in Vietnamese culture is separate from the main house, and today's kitchen is the heart, where the rooms in the house are connected.
Because the kitchen is often in and out, this area needs light, an energy saving factor is also an important part of today's designs, so the kitchen space I designed has many doors: there are two sides. window, 1 side door to the garden, 1 side communicates with the living room.
The curves, lines and tiles combined with indigenous materials such as wood, rattan, ceramic… create a kitchen space that is both antique and traditional, from those elements that bring closeness. close and luxurious for the design
Hopefully, the Indochina Style kitchen space will contribute to creating new colors for your living space.
You should choose materials that are close to nature, it will bring a lightness to the space, a feeling of being in harmony with nature.
Interior Designer:

Sixgreen Design