Design project of Geometrium Design Studio. Common information about project: Location — Moscow, Russia. Floor space — 58 m2. Project orderer — young couple. Interior style — contemporary. The client of this project is a young couple. They do business, conduct healthy way of life, in their free time ride a bike, and also consider buying a dog. Several times per month they host guests.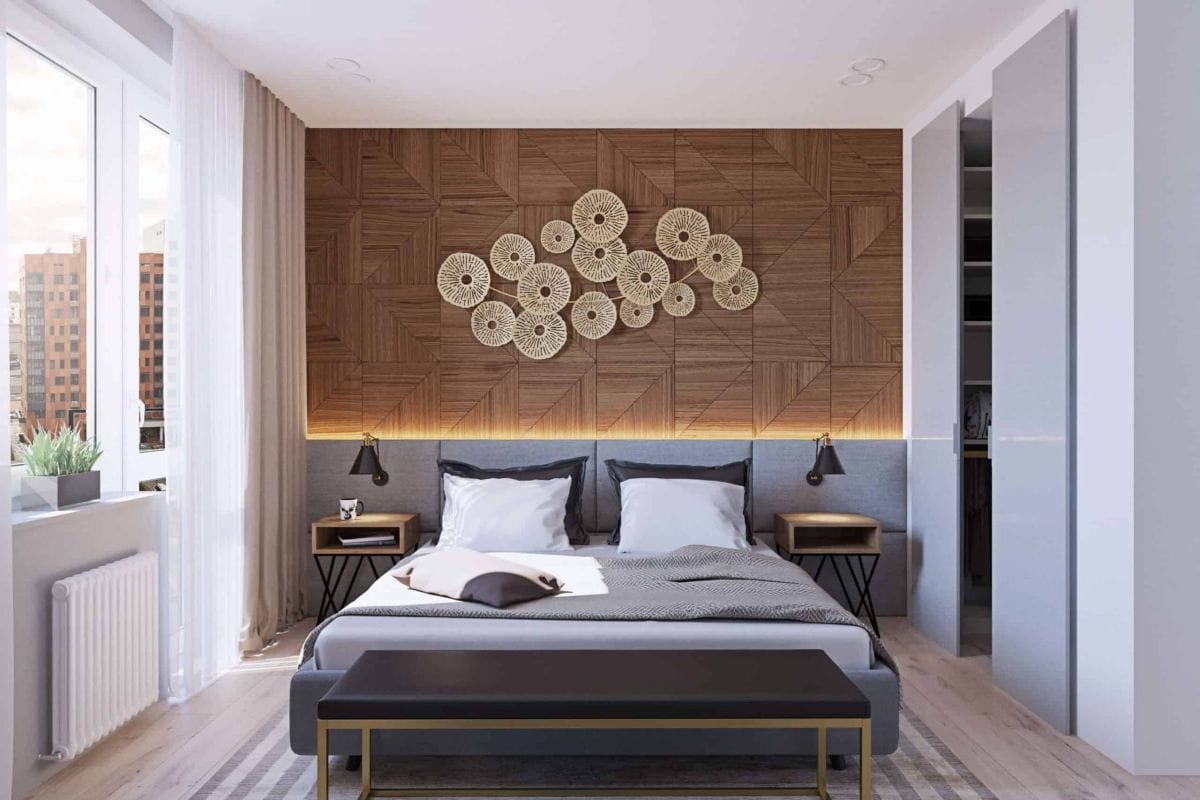 Functional tasks to be resolved in this space
We had a several tough tasks such as:
• Do kitchen, living room, dining room, cabinet and bedroom with a dressing-room taking into consideration existing bearing partition;
• Combine sanitary facilities;
• Create comfortable for life flat, where once per month clients will host guests;
• Work out interior using natural materials for finishing, in a tranquil gamma with no bright accents;
• Take into account the wish of the clients to have a bright flat;
• Keep ceiling height;
• Do enough storage systems, as the couple has a great amount of things.
These were the main requirements of the clients.
Replanning
We didn't do a vast replanning in this project. And as we had a task to create kitchen – living room, for which we didn't have space, we decided to place the part of the kitchen in the corridor. Main reason for this was inability to approve filled-in bay in a carrying wall of this flat.
In this project we increased kitchen using corridor space. We placed there refrigerator and vertical cupboard. Additionally, we organized entrance hall with wardrobe, and for the bedroom we took the biggest room and functionally divided it into several parts: at the entrance there is a dressing-room. In such a way we organized dressing room – wardrobe, in which there are a lot of storage systems and a separate dressing room, where you can enter and handle things. At the same time there is a separate bedroom.
We combined sanitary facilities into a one room. Herewith water closet space we used for shower zone.
Small room we used for cabinet and organized guest room there with a fold-out sofa, where the guest can stay for a night.
Finishing materials
For flat to look bigger we used a few amount of finishing materials and tried to repeat them from room to room, for space to look entire.
Here in finishing we used three main colors: bright grey, almost white and wood of 2 tones – bright tone of the wood on the floor and dark walnut on all ordered and furniture items. Also we used brown color as it is close to walnut color and black accent, which is repeated in the interior and used for setting the rhythm.
Walls in the flat are made for further painting. There are wooden panels in the bedroom and veneer MDF on the walls. On the floor we used tile in the form of honeycombs with the colors that prevail in the interior: grey, black and white, and also bright parquet planks of blanched oak, which creates background for a bright walls.
In the bathroom we used marble-imitating tile and white paint for walls in several places. In the bathroom for an accent we used wood-imitating tile Parcelanosa Oxford, which perfectly lines up with tile imitating white marble and qualitatively imitates wooden bars. We used it in several projects.
Storage systems
We tried to use systems of a standard size and also ordered wardrobes (for niches). For example in the hall we placed wardrobe from the system Ikea Pax and order-made open shelf with veneer MDF.
We also used IKEA storage system in the bedroom.
Cabinetry could be ordered at any manufacturer, as all sizes are standard and these could save the client's budget. We ordered only handles. We added statusness to the interior by using long latten handles.
In the dressing room we used ordinary storage system in barbell form, where you can handle the clothes. Also we used IKEA standard storage system in the form of shelves and stacks.
In the bathroom we used ready-built kitchen. For the drawer under the sink we used cabinets with boxes and place for washing-machine. This solution we have already used in several projects. It is cheap enough and looks really interesting: you can buy washing-machine for cabinetry and not place it in the kitchen, but place it instead of drawer under the sink. We placed cabinetry and built in the sink into the tabletop.
Tabletop for this storage system we ordered from artificial stone, which we used for the kitchen. In the whole, the drawer looks like the one in the kitchen and visually unites the rooms.
In the bathroom we have a mirror cabinetry with a storage system for storing all bath accessories. Also you shouldn't forget that there is a cabinetry for storing.
In the shower cabin there is a built-in niche with shelves where you can put accurately all the shampoos and they will remain in the open access, but won't disturb while taking a shower.
In the cabinet we used Pax system from IKEA for closets again. This zone is built-in, so we decided to save the budget. The only order-made item is wardrobe with a mirror, herewith the middle partition we did with a floor-to-ceiling mirror frontage. It reflects the light from the window, and this enables to receive more light in the room.
Lightening
The clients wanted to have many lightening scenarios: decorative, functional and general.
Let's start from the entrance hall; there we have functional and general lightening. It is represented by spot light and LED panels, which provide soft lightening. It is enough to dress, put shoes on and look into the mirror.
In the kitchen and corridor there is functional and decorative lightening. Here we did visual division by wooden laths that goes from the wall to the ceiling, we put LED sections in them, so they provide soft decorative lightening on the wall and ceiling. Moreover they perform functions of functional lightening.
We placed sections in chaotic order; by this we created an interesting interior detail: highlighting which lights among laths. When you turn off the light, leaving only this lightening, it looks like an interesting decorative element.
There is functional lightening over a dining table in the form of LED chandelier. In the dining room, the same as in the entrance hall, there are spot lamps that provide general lightening.
In the bedroom we used decorative light in the form of LED strip over the bed-head; it illuminates vivid texture of the wall panels. Additionally, there is general and functional lightening in the bedroom. General is represented by LED panels on the ceiling. Being unnoticeable, they perform their function very well. Also there is spot light near the bed-head for reading before sleep in the form of the wall lamp.
Functional lightening is used in the dressing room at the entrance to the bedroom. The wardrobe is illuminated with two built-in lamps. In the dressing room there are LED panels.
In the bathroom we used both decorative and functional lightening from bottom to top of the mirror wardrobe. Also we placed built-in lamps on the ceiling.
Workplace in the cabinet is also lightened by desk lamp, and floor lamp, which is a good decorative solution with additional lightening for those, who will read on the sofa.
On the balcony we also placed laid LED lamps. They have the same function as built-in ones, but they do not require holes in the ceiling.
In the bedroom we placed floor lamp which has decorative function and was chosen to create intimate atmosphere with modest highlighting. It also performs function of decorative element and black accent in this room.
Furniture
For the furniture we used designer things. For example in the kitchen we placed designer table Tulip and chairs Deephouse with latten legs.
Around the whole flat in small decor elements we added latten to add statusness to the interior and dilute monochromic tones with colored metal.
Furniture items:
• Drawer unit under TV is order made and has black metallic graphic legs and veneer MDF of walnut color.
• Order made bed
• Order made small sofa in front of the bed with a leather upholstery and latten legs
• Night tables were bought in Cosmorelax (designer item). Their black graphic legs also aligned with other furniture items, for example with floor lamp in the bedroom.
• Armchair and small table placed on the balcony are bought in Cosmorelax.
All items mentioned above are extremely popular designer items, that are align with the design of the flat.
As the balcony walls are the part of frontage, we decided not paint them into another color, that's why they stay aside of the flat color scheme. By repeating it in designer things we united the style of these rooms. Hanging drawer on the balcony is also from IKEA.
In the bedroom we placed commode of Russian manufacturer The Idea. This manufacturer creates interesting in the terms of design and good in terms of quality furniture items.
Décor and textile
In this interior we used minimum of décor.
As the décor items we used pictures and watches. Lamps and floor lamps also fulfill decorative function.
Window textile is represented by curtains from natural fabrics; herewith we didn't emphasize them by color. Our task was to turn attention to items and things placed inside the room to increase the space.
Also for décor in the kitchen we used wall clock in the form of laconic pointers, which the clients saw in another project and wanted the same for themselves. In the bedroom over the bed-head we placed latten décor to support latten items in the interior. It could be ordered in decorative ironwork studio.
In the bathroom we placed picture to dilute monochrome of the marble imitating tile.
Other decorative functions are fulfilled by finishing materials, as we had a task to transmit naturalness and for these we put accents on dark wood and natural materials.
We had a task to create monochrome interior without bright accents. As the clients like natural materials in the finishing, we tried to use neutral tones. For the accents we used green color of plants. Greenery was needed to dilute monochrome and bring freshness and brightness to the interior.
For main colors we used grey, white, brown and black.
Interior Designer:

Geometrium