Organized around a central courtyard, Casa Clemente seeks to open the spaces to the exterior to have connection with the gardens, thus providing a sense of spaciousness and a relaxed atmosphere. The cross ventilation and sunlight entrances are calculated to control the microclimate of the house from these openings; the house looks to respond to a simple life, without pretensions.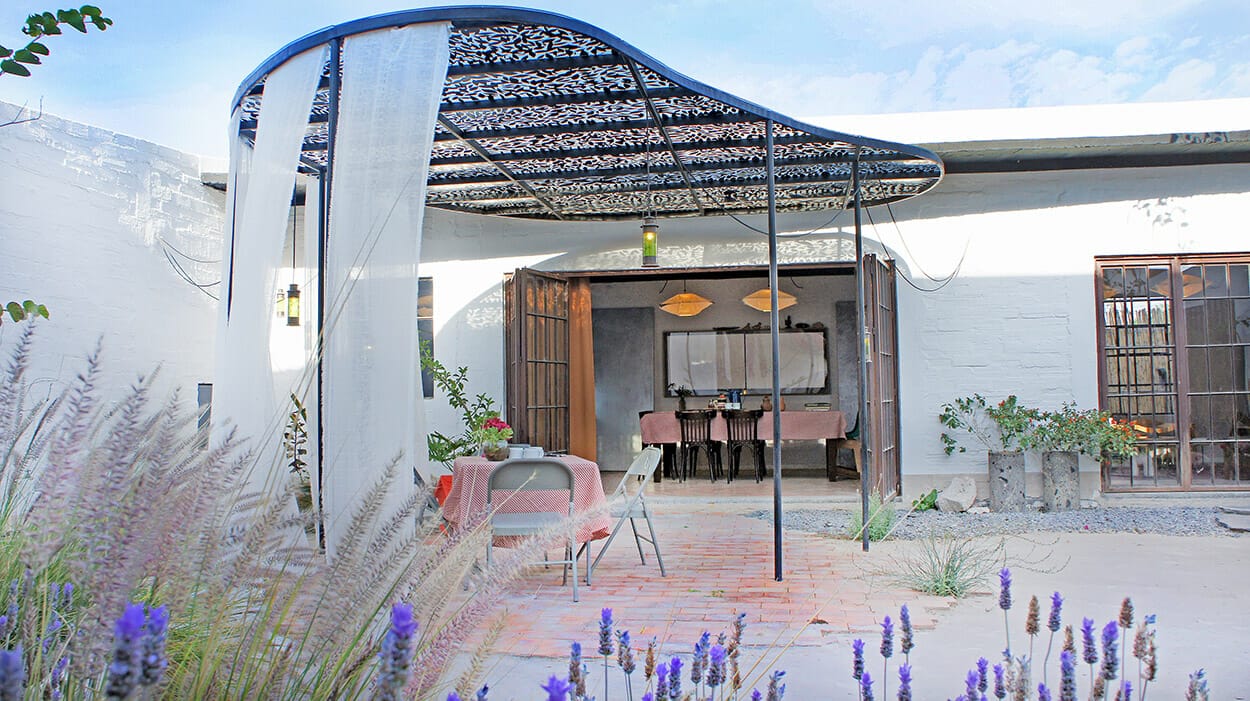 It is not easy to know where the aesthetics of the house came from, organic, rationalist, romantic and eclectic; Casa Clemente and its decor uses elements from different world architectures, gathering vernacular elements from Mediterranean villages. The imperfect walls and exposed brick texture remind rural areas, the Portuguese portico, the novo Hispanic central garden, in the same way as inner doors and windows comply with Japanese houses and modern buildings of Latin cities, mentioning some. The organic form pergolas create shadows with tree leaves shape, to remember being under the shade of a frond, inviting to rest and enjoying the warm climate that surrounds the landscape.
The most distinctive element of Casa Clemente is the roof, which covers all the spaces under gable geometry, painted in black. A porthole, a typical element of the viceroyalty Queretaro architecture, allows to see from the outside the strange geometry of the roof, besides caricaturing the aesthetic elements of the house, seeking to establish a dialogue with whom is about to enter through the main door.
The finishes of the house surfaces are very diverse, textured fabrics, coarse lime plasters, red brick, exposed concrete, rusted steel, black marble, local quarry stones, etc. The eclectic materials aim to encourage any object to find its place in this house, weaving the complexity of its sensations from the narrative capacity of the elements that make it up, in each wall and each furniture we can look for a story, sense the route that the object has passed until reaching its destination. The spaces are also surrounded by books, views and curious objects, the lamps hang freely from the ceilings, the cables draw curves that break the visual compositions, there is always something that stands out for its simplicity and originality.
Casa Clemente is built with travels, with going out to the world and soaking its interiors of it, traveling to return and build a world of its own.
Architect:

Juan Carlos Loyo Arquitectura