We developed the interior of the apartment for a young woman with two children: 14 y.o. boy and 2,5 y.o. girl. Apartment location Russia, Moscow Region, Khimki, Edem. Floor space — 108,6 m2. Interior Style — contemporary Scandinavian. The main task we had was to create two separate children's rooms. Also, we needed to foresee a separate bedroom and two sanitary facilities: bathroom and guest's sanitary conveniences.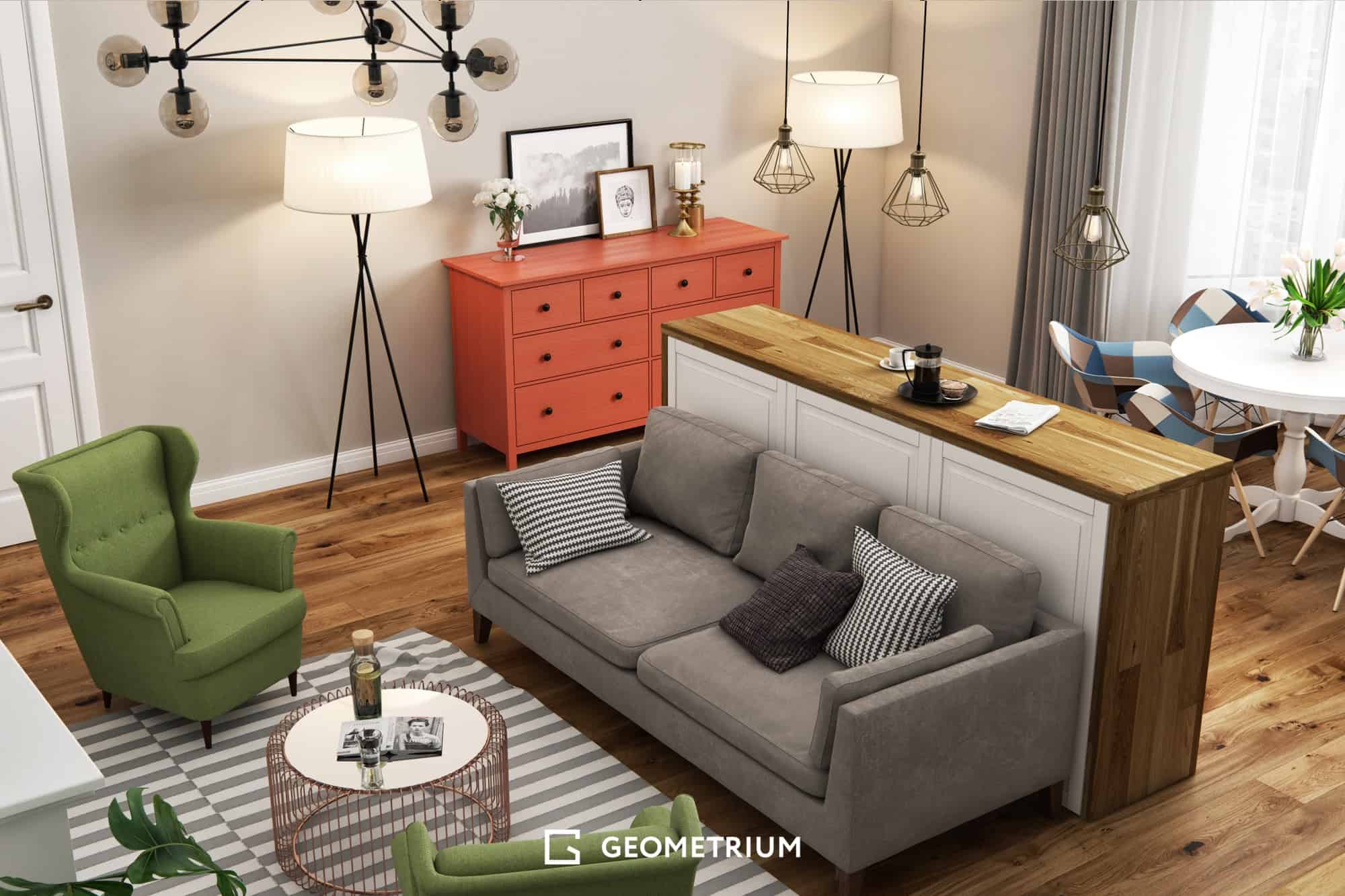 Functional requirements for this apartment
The main task we had was to create two separate children's rooms. Also, we needed to foresee a separate bedroom and two sanitary facilities: bathroom and guest's sanitary conveniences.
Replanning
We did a huge replanning in this interior. We left only supporting wall on its place and reversed kitchen and living room.
We returned living room on its previous place, and kitchen we placed according to TIB plan. Previous kitchen zone we used for children's room for the girl and guest's sanitary facilities. Herewith, the sanitary conveniences do not enter the living zone, according to TIB plan it is placed in the corridor and entrance territory. And also, according to this plan child's room remains in the living zone. That why replanning didn't require any complex approvals.
Also we foreseen a separate dressing room, which was created using space of corridor.
Finishing materials
In this project in all rooms we used parquet planks and also pocket-sized subway tile, as a classical element of Scandinavian style. Walls are made for further coating; we used different colors for each room. For emphasizing the walls, we locally used wallpapers in the entrance hall.
Storage systems
We had a task to make enough number of imperceptible and to the maximum built-in storage systems, to elude space overloading.
On the left side from the entrance we placed built-in closets Ikea Pax, that will perform both technical and storage functions. In the technical part of it, we placed electrical distribution box, water-supply counters and heating collector. In the closet opposite to entrance we placed Ikea Pax for overcoat storage.
For storage of seasonal and rarely used items we created a separate dressing room. It is in the form of a separate room and placed over opposite to the entrance closet.
In the bedroom we also placed two built-in closets Ikea Pax in the wall from the both sides from TV. Opposite, there is a children's room for the boy, where we placed storage system by means of the sleeping zone. Notably in the niche, which we used for TV in the bedroom we built in Ikea Pax closet in the children's room of the boy. Storage system in the children's room of the girl is represented by a separate wardrobe.
Storage systems in the living room we placed in one line together with cabinetry. They are placed separately from the right side of the cabinetry. Visually they look like continuation of the cabinetry, as the facade is similar, but they perform function of storing things. For additional storage we also placed drawer at the entrance to the living room.
In the bathroom we have foreseen storage system in the niche over the washing machine. Near it there is a casing for boiler.
Illumination scenarios
There is no surfeit of illumination scenarios. All available are simple enough. This is contemporary interpretation of Scandinavian style classics.
General illumination is represented by built in surface-mounted luminaire and chandeliers.
For the functional illumination we used table lamps in the bedroom, wall lamp in the children's room, directed table luminaire for function illumination, and also bar counter illumination in the living room. Over the countertop we also used functional scenario in the form of highlighting. In the guest's sanitary facilities for the function illumination we used hanging lamp near the mirror. In the bathroom function is illuminated by laid on light over the mirror. Such highlighting is irreplaceable for morning toilet and makeup.
Decorative illumination is used locally in the living room in the form of the floor lamps from the both sides of the drawer. They provide soft illumination and help to create intimate atmosphere in the interior.
Color layout
We had the task to create interesting and mischievous interior, surroundings and color layout of which could be changed if needed. That why color layout here is various, as it was client's requirement. For the main color and background of all rooms we used parquet planks to combine all tones, and also different tones of grey walls.
In some places we used blue color of the walls for the accents, tones of which vary from room to room. For example, in the guest's sanitary facilities it is flashy accenting tone, as it was a task to create an effect of a separate room. In the bedroom the walls are of light-blue pastel tone without bright elements, this was the requirement of the client. In the children's room for the boy we decided to use deep blue in combination with orange tones, which the child liked during the presentation.
In separate elements we used absolutely different colors. Terracotta tone of the wardrobe goes with green armchairs and plants, blue chairs. In such a way we put together almost all colors of the interior. Herewith, there is no color overloading; everything looks balanced by the means of warm-grey tone of the walls.
The role of accent in the hall is performed by entrance doors and wall with multicolor lines of blue, white and beige color around it.
In the children's room for a girl we used pink tones in enough bright combinations with yellow and green tones. Everything is united by the neutral grey color of the walls.
Furniture
We had a small budget for this project, that's why we used furniture from Ikea.
The furniture from Ikea, which was used in the living room – dining room – kitchen zone:
● cabinetry tabletop;
● dining-table;
● armchairs;
● carpet;
● drawer.
Ikea in the children's rooms:
● shelf stands;
● table;
● closet;
● high chair;
● armchair.
Also we used Ikea for closets in the whole interior.
Designer's illumination in the interior is represented by replicas from China, lamps from Cosmorelax. Also there are replicas of bar stools in the living room and chairs in the dining room from Deephouse.
Decoration and textile
We chose decor by coloristic visualizations. In the whole apartment we placed a large number of paintings, frames, candles, vases and other small decor elements. The client likes such small details and it was important for her to create cozy atmosphere by means of them. Also decor is represented by a huge amount of plants.
Textile is neutral enough; the curtains are of neutral beige and grey tones in the whole interior. Bright elements in textile could be used only in children's zones. Bedroom textile is of neutral pastel tones and light-blue accents.
Complexities
We had complexities on measurement stage as we didn't have an access to some elements and their sizes we needed to predict in measurement diagram. Also there are a lot of diagonal uneven surfaces and round walls, what was a complexity during taking measurements.
Also complexities could appear when placing Ikea closets. It is really important to be attentive and precise when placing partitions, so that all closets could be placed to the niches.
In the bathroom complexities could occur during installation of glass partitions for the shower, they should be placed straight on the bath. It should be done in a way that hairline joint is isolated and elements do not object one another.
Also there could be complexities with the ceiling at the entrance. As the ceiling at this place is going down heavily because of supporting girders, it is necessary to follow the dimensions to put there Ikea closet.
Project implementation period
Project implementation period could be more than 6 months since it is needed to do global demolition and electrical works.
Interior Designer:

Geometrium