The project involved turning an apartment located in Cracow, Poland, into a contemporary single-family home. The apartment is a one-bedroom and one-bathroom property that has been redesigned to make the most of its floor plan and to transform its interiors into light-filled space.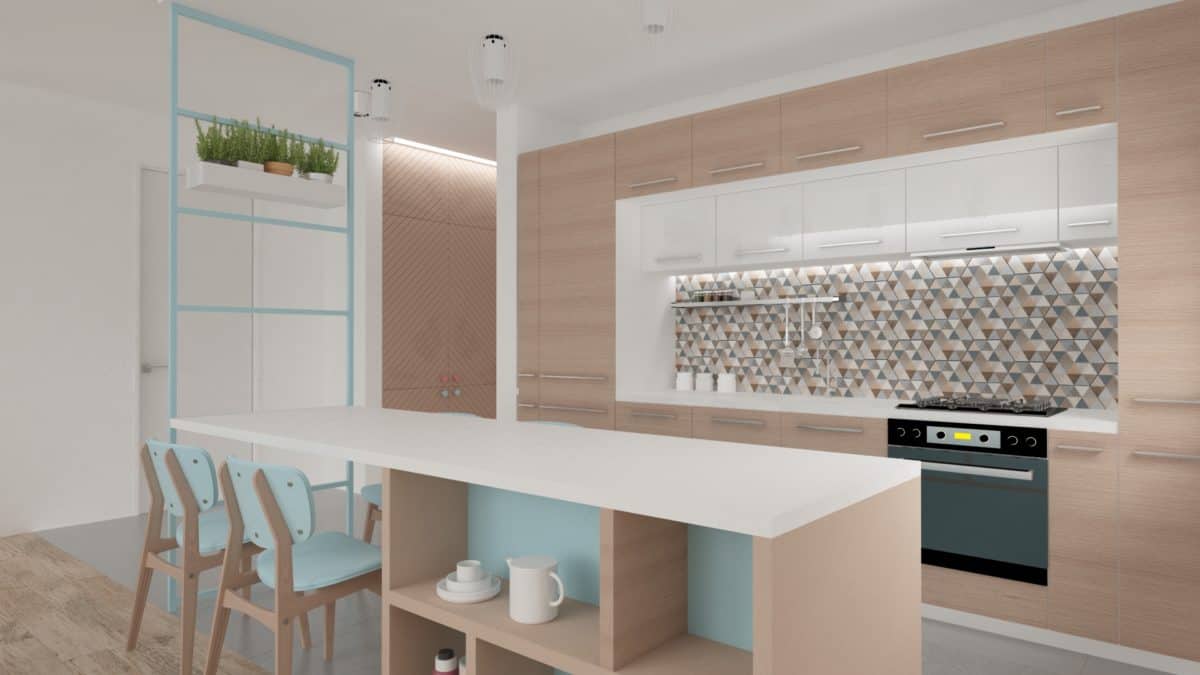 The brief of the client was to create a fluid space, capable of providing a comfortable space for two people. The client wanted the apartment to be vibrant and full of life, hence the choice of colours and materials were vital to achieve a delicate balance. The apartment follows a largely fresh and vivid colour scheme, paired with white walls and white-oak parquet floors. Oak wood flooring features throughout the apartment, except for the kitchen and the bathrooms – where floor tiles are used. Furniture is the only element that provides touches of colour.
A central open-plan space in the reorganised layout hosts the living space, dining area and kitchen, while a bedroom, dressing room and a bathroom are located off the main space.
The layout is reconfigured with a large centralised living space- a kitchen that now opens out onto a bright living room. The dining area created by a large island, that serves the role of a dining table, links the kitchen and the living room. The apartment's two large glass windows allow plenty of day light to pour into main space.
The apartment's main open-plan space is separated from the bedroom by a custom-made furniture divider crafted from steel and a large sliding pocket door. The new space is a bedroom, a dressing room and a private home office when closed. Custom-made storage units placed in the bedroom and the hall make the apartment more functional.
The customers were enthusiastic and satisfied with the project. They appreciate not only the functionality of the apartment, but also enjoy friendly and welcoming atmosphere of their new home. The space addresses all their needs and expectation, both functional and aesthetics values.
Interior Designer:

Monika Koryczan