The condo is located in the brand new condominium complex near the forest in Kyiv. The total square footage is 53 sq. meters. Taking into consideration our clients ideas and preferences that they shared helped us made their dream design came true.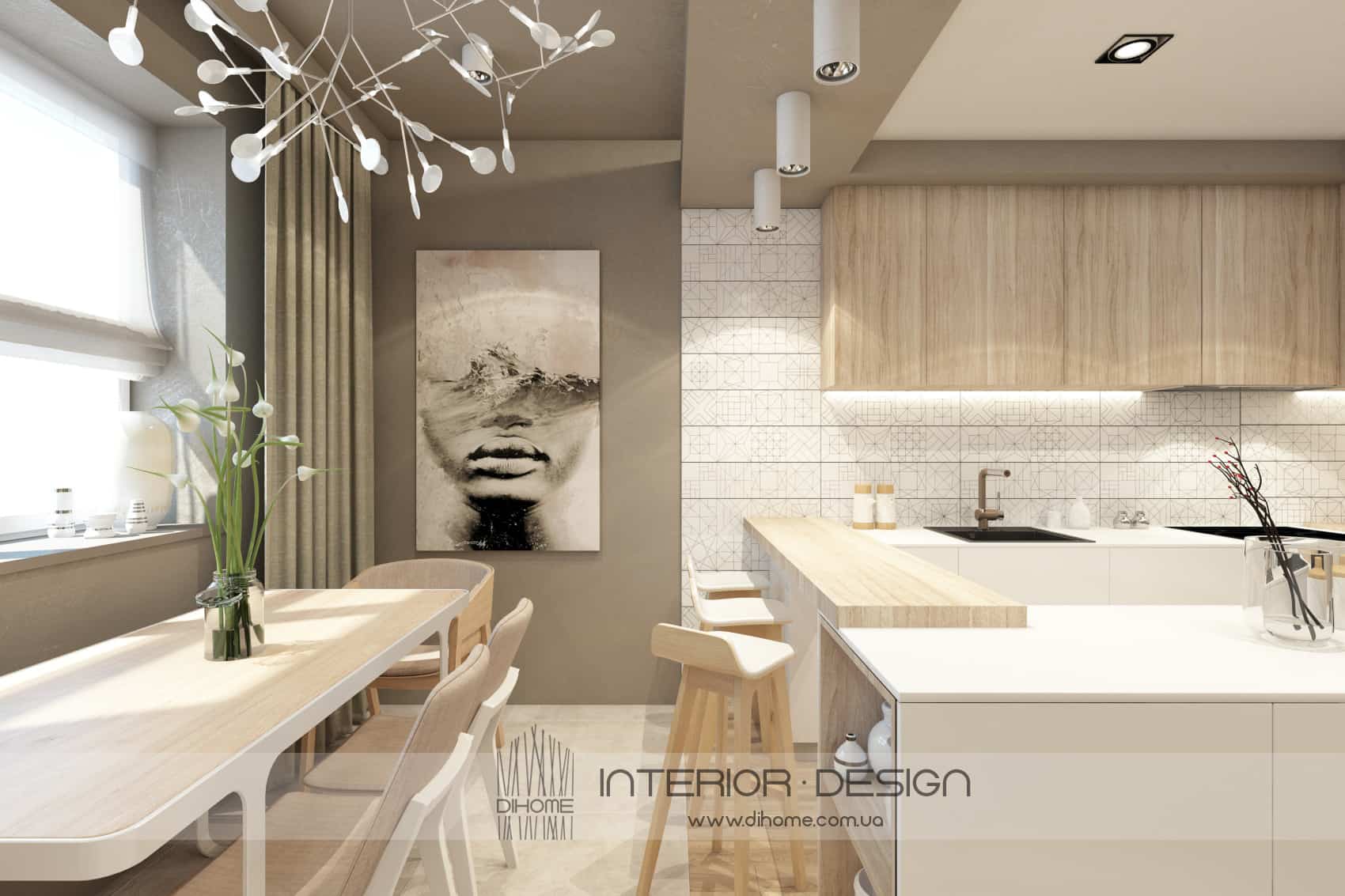 We worked on some changes and ideas together that let us use existing space more wisely and efficiently.
Despite the fact that the flat has been entirely painted in neutral color the interior doesn't lose its intensity. In the living room the wall and ceiling covered with wooden panels and have recessed lighting fixtures. Wooden color spreaded over the whole apartment – it has its beginning on the kitchen's cabinets then come down to the kitchen table, floor and continues on the walls as wooden slats.
Porcelain stoneware is used as floor covering. Also this material can be found in the all other elements of the dwelling such as walls. It allows us to keep subtle contrast of the whole apartment.
Originally the total square footage was much smaller. But our proposed layout which included existing porch enclosure for one extra room allow us to increase the living space. This area turned to a cozy and pretty intimate space where you can relax with a cup of tea – with a boudoir on one side and an armchair with a coffee table in front of. This change also combined the bedroom and working area together. The boudoir can be used as a small desk.
Every piece of furniture is custom-made and fits in such a way as to create a perfect composition.
Using a sliding mirror door cabinet also helped us to make the hall visually bigger.
Despite a quite compact bathroom (4 sq.m.) we managed the space in the best way – to keep it airy, open and bright.
Personally I tried to reach the balance between the elegant and contemporary style in this project and I think I succeed.
Interior Designer:

DIHOME

Interior Designer:

Evgeniya Sytnik