Project for a psychoanalysis practice, located in Pinhais – Parana, Brazil.
Designed for a young psychotherapist looking to create a new and comfortable space.
Colors were chosen that complement each other naturally, and that created a space with classic appeal, but with an air of modernity.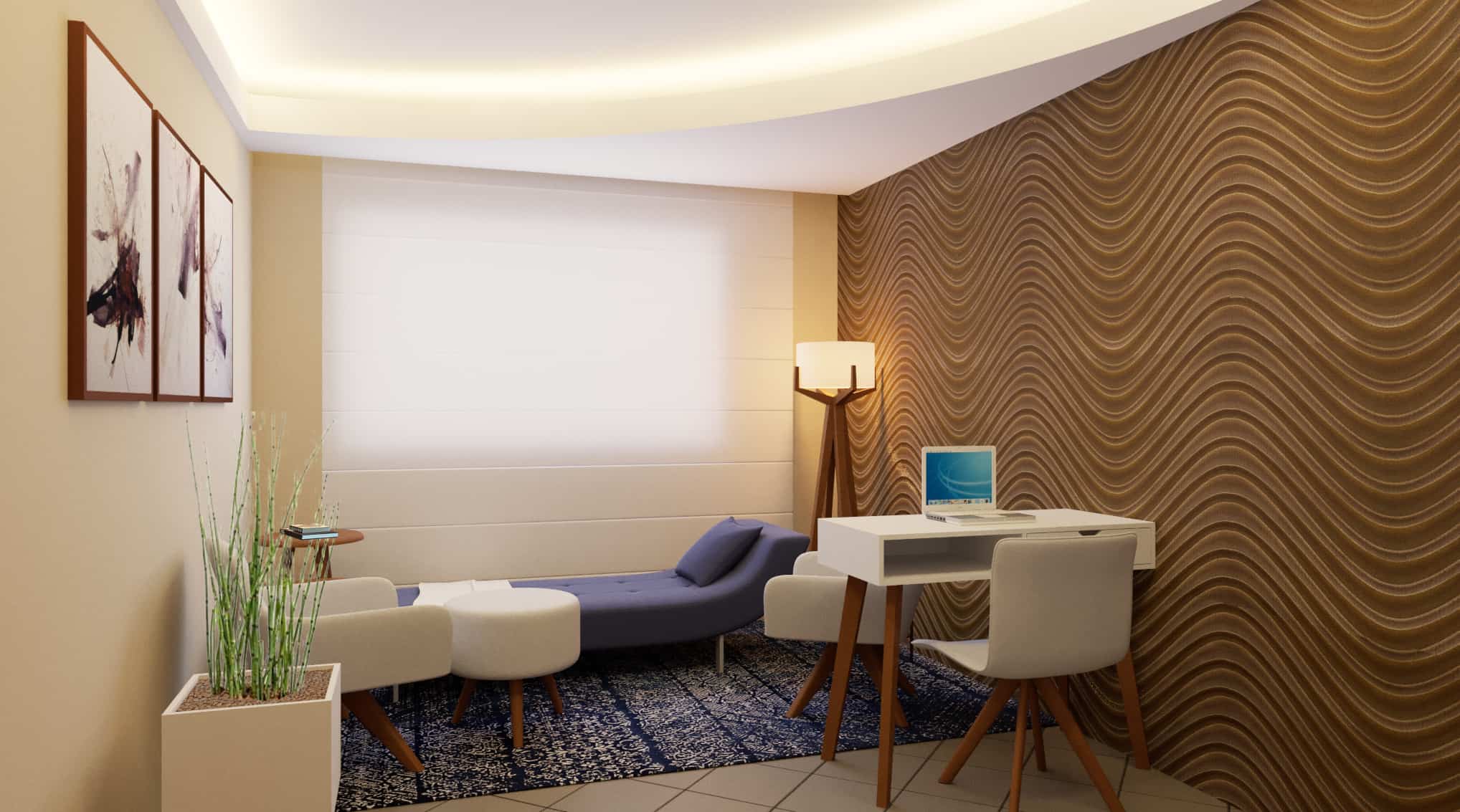 This project, which was all carried out remotely, online, was planned to create a new space for psychological assistance, located in the State of Paraná, Brazil. The client, a young Brazilian psychologist, wanted to create a place that represented more than a doctor's office, but that also offered comfort and welcome to her patients.
When starting the briefing with the client, she presented two items that would be the inspiration for the entire project. One of them is the divan, with a classic Freudian touch in a blue tone, the other a canvas painted by hand in earthy tones and gradients of blue, which although not used in space, had its color palette captured and used in the entire place, from very particular forms.
The style, as well as the aforementioned color palette, was guided by the classic air of the divan, however, contemporary touches were added, making different styles complemented by textures, application of colors and movements. Lighting also plays an important role, creating visual comfort. The goal was to create a comfortable and welcoming environment for patients, while also being functional and pleasant for the professional.
This project was special because it was one of the first commercial spaces designed by me. The entire creation process was carried out in close contact with the client, who participated in the choice of each detail. The result was very rewarding and was executed with great care by the client who fell in love with the whole process that resulted in an elegant office, but without leaving comfort aside, both for the professional and for his patients.
Architect:

Michelle Madeu

Other:

EasyDeco