The barbecue is a very important tradition for Brazilians, it is common for families and friends to gather on weekends to taste a good barbecue, to fraternize and watch a soccer game. It is very common, therefore, for houses and apartments to have an area dedicated to this activity, regardless of size.
This project sought to meet the desire to turn the small backyard into a cozy and practical space allowing owners to enjoy an outdoor area and receive their friends in style.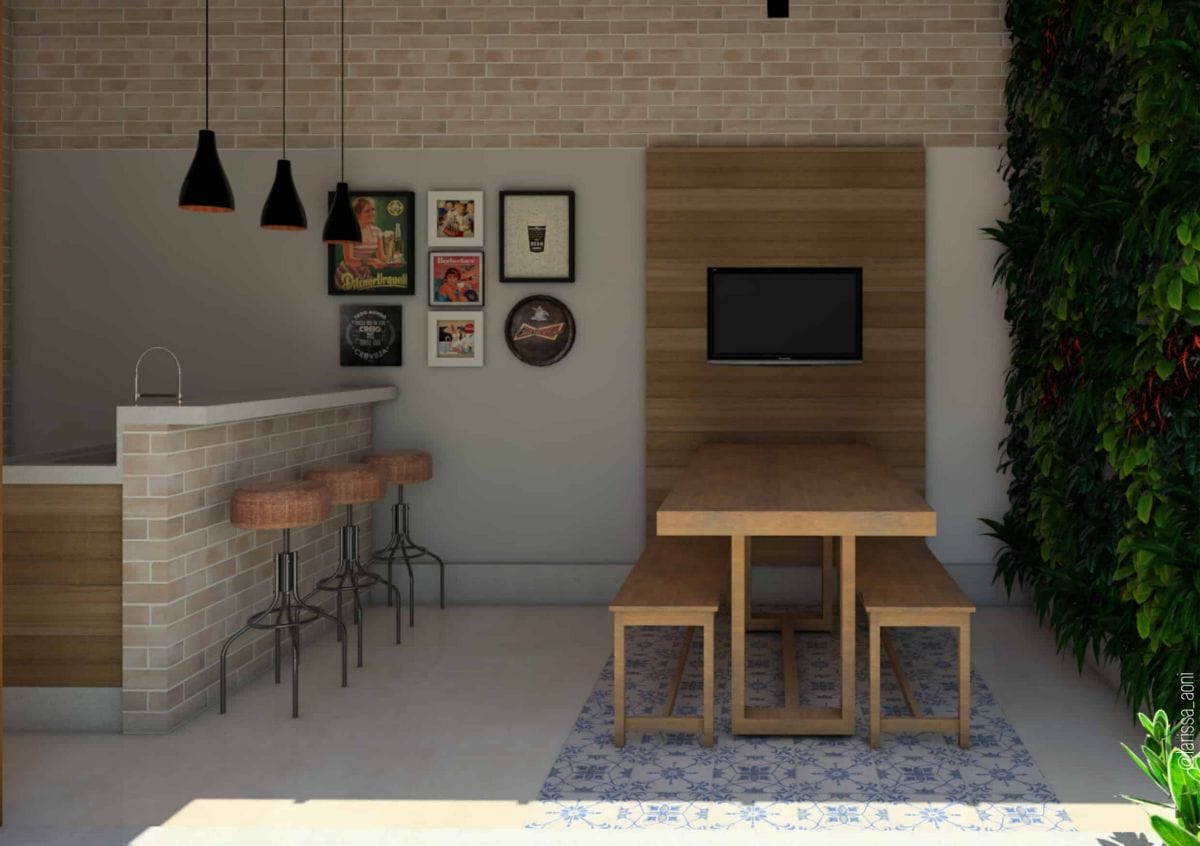 The challenge was brought by a couple of doctors who were renovating the house and owned an unused space in the backyard, in which they would like to turn it into a barbecue area, and also transfer the laundry to that space.
We defined an L-shaped plan so that the roof could block the solar incidence and contribute to thermal comfort since the place where the project is located has high temperatures during most of the year.
The covered space is divided into a barbecue area, bathroom, and laundry. To accommodate people, it has a high countertop attached to the sink, and a table for 6 people, from where the wood panel for the television is designed. The vertical garden brings life and comfort to the environment, besides contributing to a harmonious composition of the space.
The key materials used were wood, brick, hydraulic tile and granite, transforming the rustic aesthetic into sophistication and elegance. Elements that refer to the industrial style were also used, in the benches and pendants lights.
The laundry hides behind a sliding door and sports a dab of mustard. The washbasin, decorated with hydraulic tiling and a mirror, is located outside the toilet for ease of use. The uncovered space has a shower for the hot days and a small wall garden.
Customers loved the design result and performed every detail specified in the project, and we managed to keep everything on the budget. The design brought life to the previously unused area, making space a place for happy family gatherings and moments.
Architect:

Larissa Aoni

Furniture Designer:

Carla Porto