As the name suggest, the Oceano Arquitetura (Ocean Architecture), a Brazilian architecture visualization studio, brings some
fluidity to our projects with relevant themes, some abstract intentions and emotion to the eyes, like an art should be.
Like all the our projects, the images should tell a history about the invisible people in the scenes. The Scandinavian Kitchen, tell us about a single coocker who pass him weekend in a small and minimalist cabin in a random woods in Norway, searching for some spirit peace with him loneliness or bringing some friends to cook and spend a good time.
The straight lines and the basic colors bring to the space the real sensation of a minimalist place, as a scandinavian theme should be. Mixing the white color of the floor and walls with the medium brown of the woods in the forniture, we create a good contrast in the scene that works perfectly just because of the natural diffuse light entering by the window.
We like to tell about art, and we considerer almost all of then legitimates one. The photography, one of the pillars of the modern art makes the composition in the Scandinavian's scene with a food photo, bringing the essencial emotion to the kitchen and tell so much about the owner.
The studio always consider the use of natural materials as an important method to trasmite the real sensation in the contact with the local environment of the building. In that kitchen we use the natural Oak (found in the norway's forests) to compose the fornitures and floors.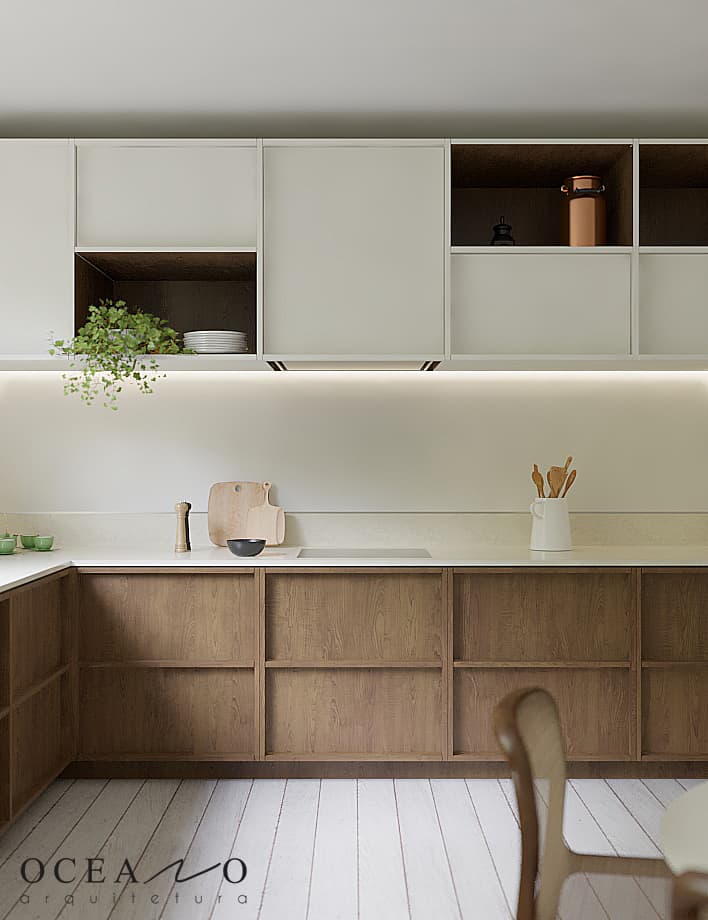 I thik the most important in this project was the desire to transmit the good sensation we felt during the process. The objective was made to our viwers who shared and liked all our other jobs. They are really important to us.
The choose was a result of many researches and studies about new tendential styles that we would like to work in. The Norway's styles becomes so strong in the market, and we like to understand, make creative solutions and work with.
It was a good experimental project to see the reaction of our public. Experimental because it was a little different architecture line that they are used to see in our profile.
My advice is to make what you like, whatever it is. Do it willingly and with love and the mostly important, do what you belive is right.
Architecture Visualization:

Oceano Arquitetura