A minimal remodeling of a communist studio, located in a central area of Bucharest.
Interventions were kept very minimal, with only 1 partition wall being demolished, an extra door added for access to the balcony and a light weight partition wall included in the living room to create a dedicated sleeping area. All finishes were renovated. The concept is to have 3 main spaces. The kitchen, with its more urban atmosphere, is the public realm. The living and sleeping spaces, finished with wood, are separated and form the private realm.
Finally, the balcony is converted into an urban garden with seating areas and becomes the open realm.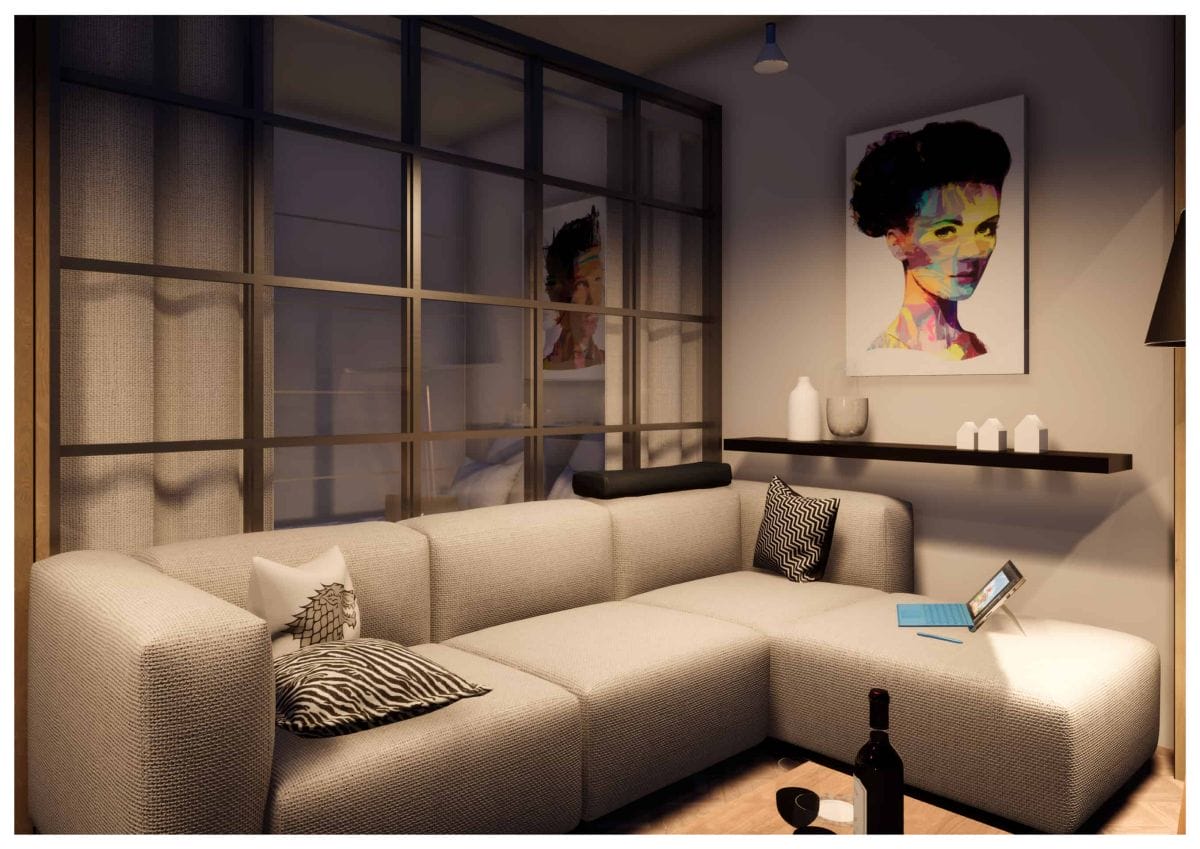 The project was done for a private client in Bucharest, who wanted to transform the old property and maximize value, with the intention of eventually moving in. Due to the limitations of the space, it was decided to use a glass partition to create a sleeping space on a partial surface in the living room. The concept was to create a complete micro-apartment without the client feeling like they would have to give up on certain aspects in order to live there. A significant number of apartments in Bucharest have a plethora if issues, so the ambition was to show that you can live well in a small space without making severe compromises.
The apartment basically has 2 spaces: the living, with the joined sleeping space, and the kitchen, connected to the entrance. So 2 aesthetics were chosen. Because the wooden floor was going to be kept in the living area, it was decided to go for a wooden materiality for both the floor and partially the walls, to create a warm, and rich atmosphere. For the kitchen, a more urban materiality is chose, by using white painted brick.
The response was good overall, with the design being accepted at the first presentation. It was a starting point from where the company started building the relationship with future clients and exploring various ways of having clients connect and understand the design. The company uses BIM almost exclusively, and we have started to experiment with AR, VR, video and animation. Because of this we have seen a very positive response to our designs. This was the first project that used those techniques. What we also discovered was that there is a large potential clientele that wants to invest in good design, not just in practicality.
Architect:

Andrei Vasilief

: