Decanter is a flagon that is designed for wine decantation and presentation. The basic shape is made of crystal and enclosed in a plastic case.The model is equipped with a convenient supportive handle. The shape of this decanter promotes an intensive wine aeration. After decantation, the wine settles down and the aggressive aroma notes start to fade, leaving a pure rich wine bouquet.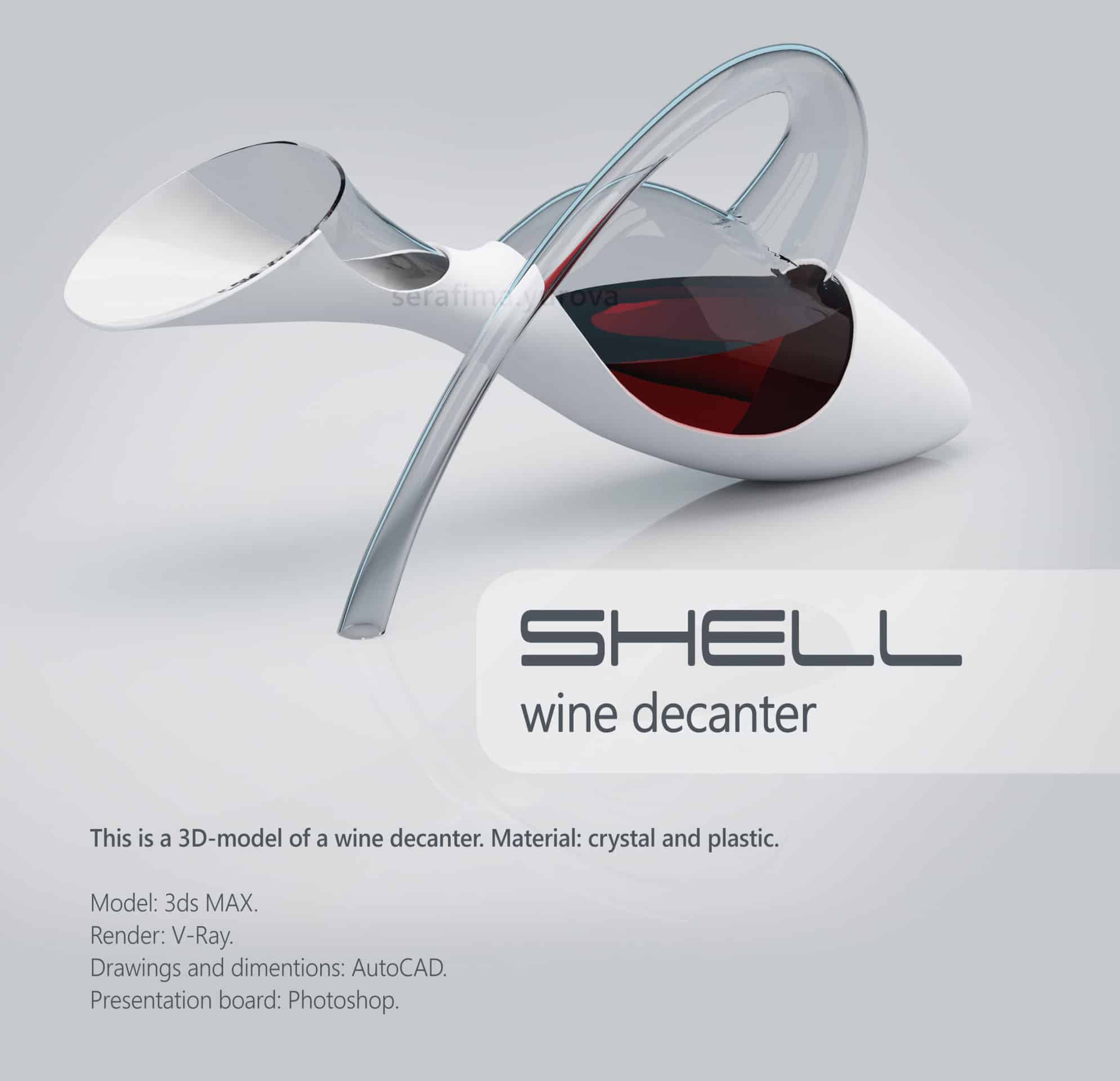 I created this model while learning 3ds Max and V-Ray. It was a study project for my university. The goal was to create any piece of tableware and present it on a board describing its purpose, demonstrating different color options. The presentation board should have also included the drawing of this tableware and showed the object in the environment.
I decided to choose a decanter because of a various range of shapes this piece of tableware suggested. I searched through existing analogs and learned that all of them were made of glass or crystal. They were beautiful enough already but something was missing.
I always loved the combination of glass and white plastic so I decided to put the crystal base of my decanter into a plastic case. Not only it looked elegant but also that way the vessel had an extra protection from scrathes.
Transparent glass, white plastic and red wine put together a great color composition. When I was searching for optional colors, I was thinking of shades that would also look good with red. So I chose black, grey and a bluish-gray glossy plastic.
As for the shape itself, I did a lot of sketches based on the analogs that I found and finally I had a form as a result of mixing those sketches together.
I received an A for my project, later it was shown in the student exibition of industrial design projects. My personal goal was to learn better 3ds Max and V-Ray by modeling and rendering this object and so I did.
I also learned that I shouldn't be afraid to find inspiration in the existing products of design, that way I can see what is trending, what looks good, what new styles are developing right now. I can and I should sum up this information, draw conclusions and create my product based on this knowledge.